The first fully electric BMW iX1 radiates electrifying determination and with its functionality and versatility provides inspiration to pursue new paths even in everyday use:

Self-assured presence on the exterior thanks to the monolithic design language and distinctive proportions
Supreme comfort in the interior thanks to active seats with massage and lumbar function for fatigue-free sitting comfort
Modern multimedia cockpit due to the innovative BMW Curved Display with touch and voice control concept
Its range of up to 400 km provides full flexibility

BMW iX1 xDrive30:
Energy consumption in kWh/100 km: 18.3
Electric range in km: 400
Read more
THE FIRST FULLY ELECTRIC BMW IX1.
THE DRIVING DYNAMICS OF THE NEW BMW iX1.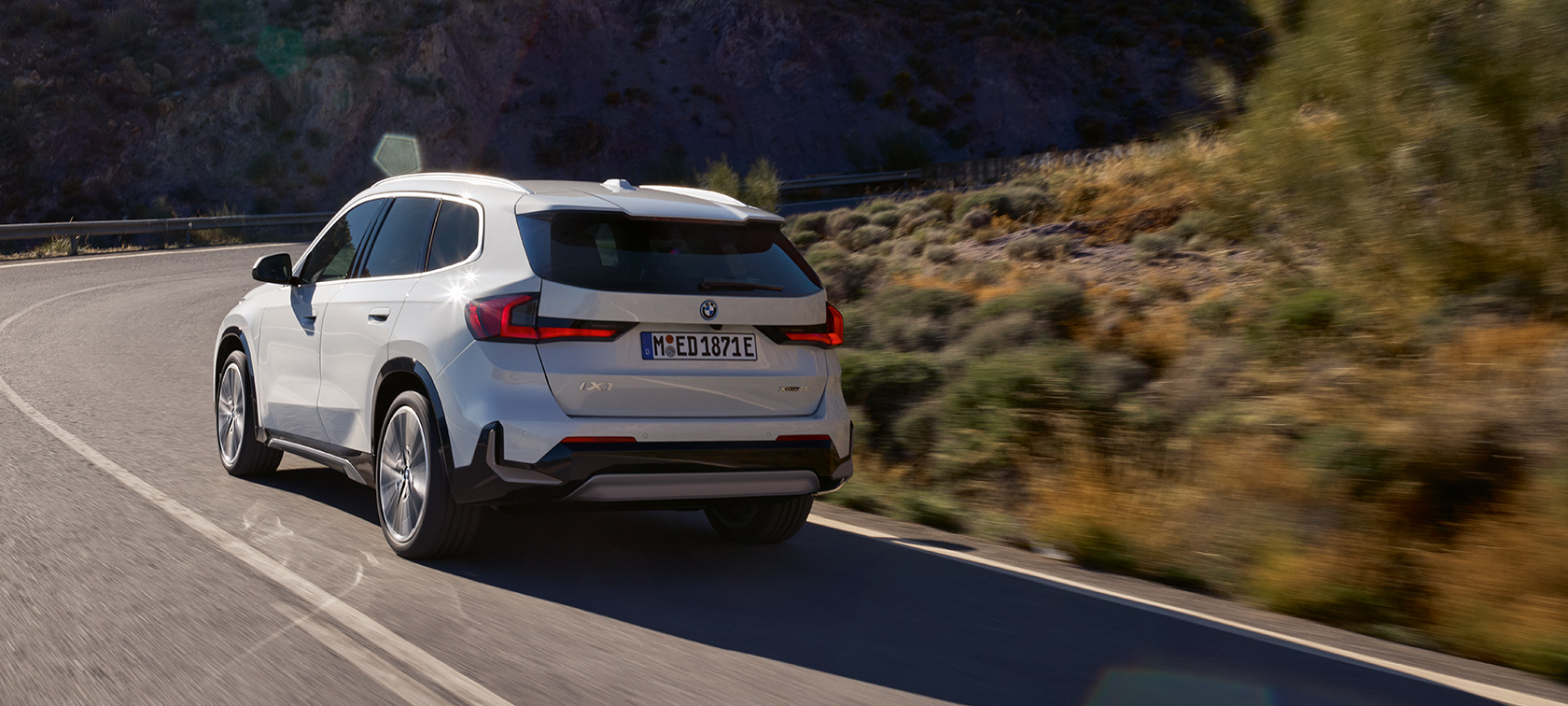 RANGE AND CHARGING OF THE NEW BMW iX1.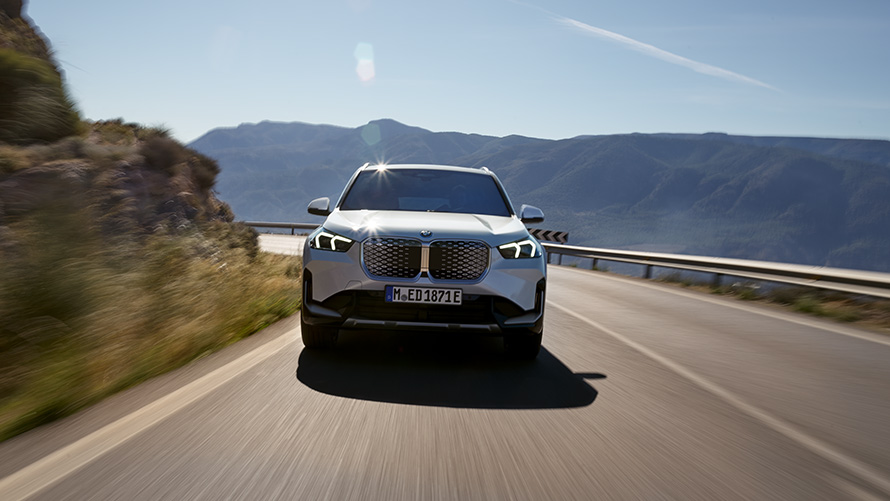 Also the ideal companion for impromptu tours: with a range of up to 400 km
Recharge up to 120 km* of range in only 10 minutes
Recharge up to 80% of the range in 29 minutes at public high-speed charging stations
Low consumption of only 18.1–16.8 kWh/km through technologies such as recuperation during braking
Maximum efficiency thanks to lightweight construction methods and aerodynamic design
DISCOVER THE NEW BMW iX1 RANGE.
Why do the ranges vary?

In detail

What are the assumptions underlying the driving style settings?
CHARGING TIMES FOR 100 KM RANGE.
Charging at home for a range of 100 km.
01:32 h – Wallbox (11 kW)
01:32 h – Flexible Fast Charger (11 kW) on industrial socket
07:41 h – Standard charging cable or Flexible Fast Charger (2.3 kW) on household socket
Contact dealer for charging solutions
Charging on the road for a range of 100 km.
00:19 h – Fast charging station (50 kW)

00:55 h – AC charging station (max. vehicle charging capacity)
Calculate range
The charging performance depends on the state of charge, ambient temperature, individual driving profile and use of auxiliary consumers. The ranges shown are based on the best case. The charging times apply to ambient temperatures of 23 degrees Celsius after a preceding drive and may differ depending on the usage behaviour.
Read more
CHARGING TECHNOLOGIES OF THE NEW BMW iX1.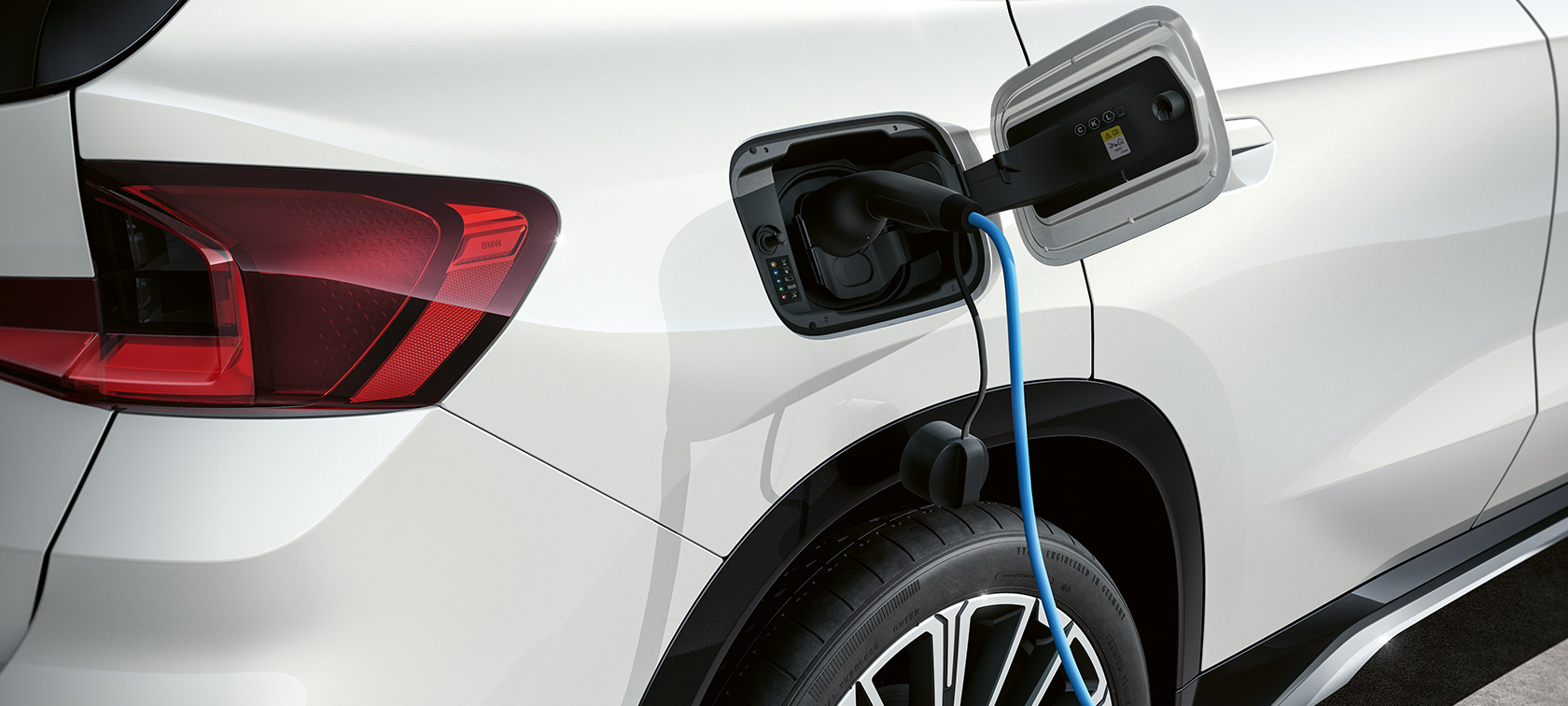 BMW CHARGING: EASY. ANYTIME. EVERYWHERE.
EXTERIOR DESIGN OF THE NEW BMW iX1.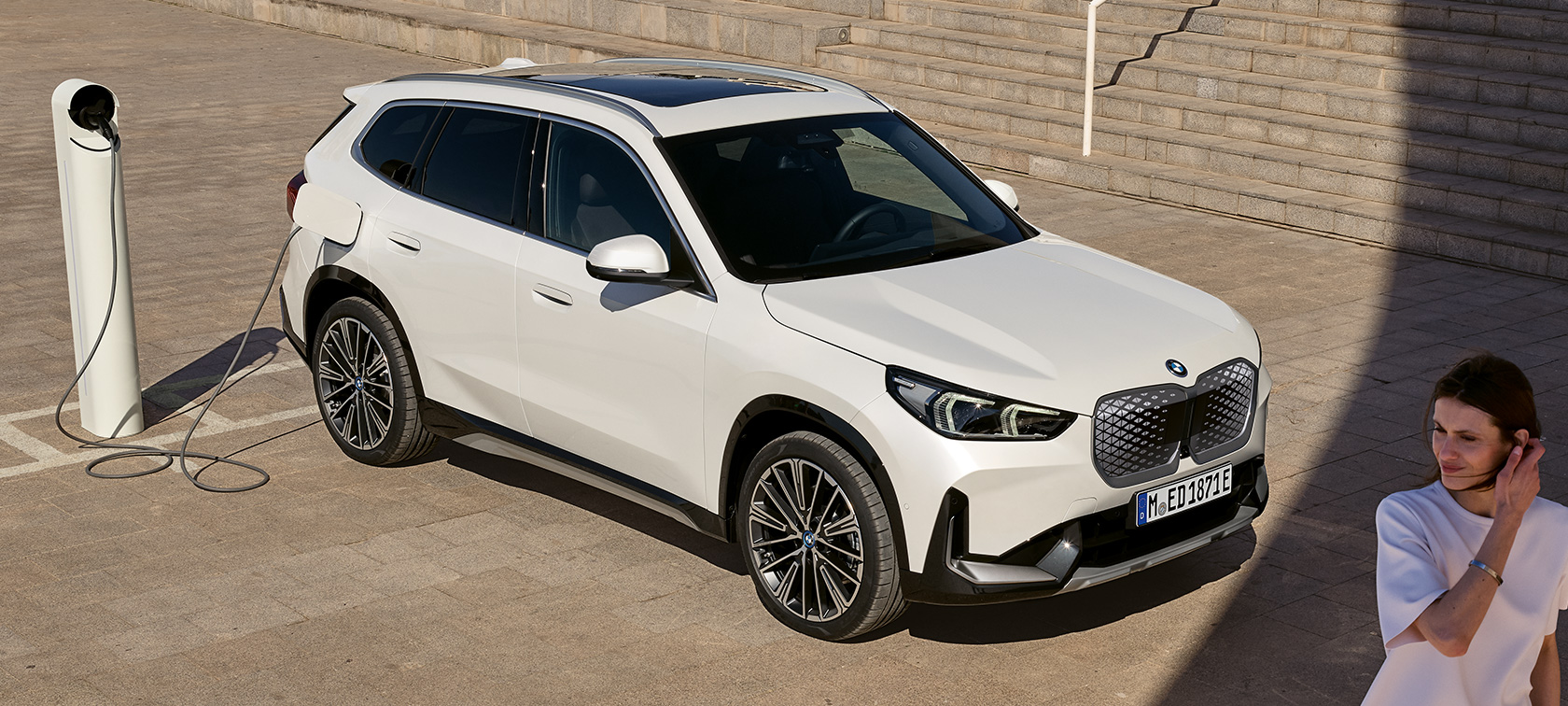 EXTERIOR HIGHLIGHTS OF THE NEW BMW iX1.
Front Design.
The distinctive and large, almost square double kidney grille with optional selectable blue accents and the slim Adaptive LED highlights, extending far into the flanks, give the new BMW iX1 a powerful and electrifying presence.
Side view.
With its prominent front section and upright proportions, the new BMW iX1 presents an extremely dynamic image in the side view. The selectable blue accents impressively showcase the electric drive of the tough vehicle.
Rear view.
Thanks to their interplay of transparent and dark smoked glass together with the hexagonal pattern* in the side, the three-dimensional L-shaped rear lights deliver an unmistakably modern statement.
*Available as optional equipment.
INTERIOR DESIGN OF THE NEW BMW iX1.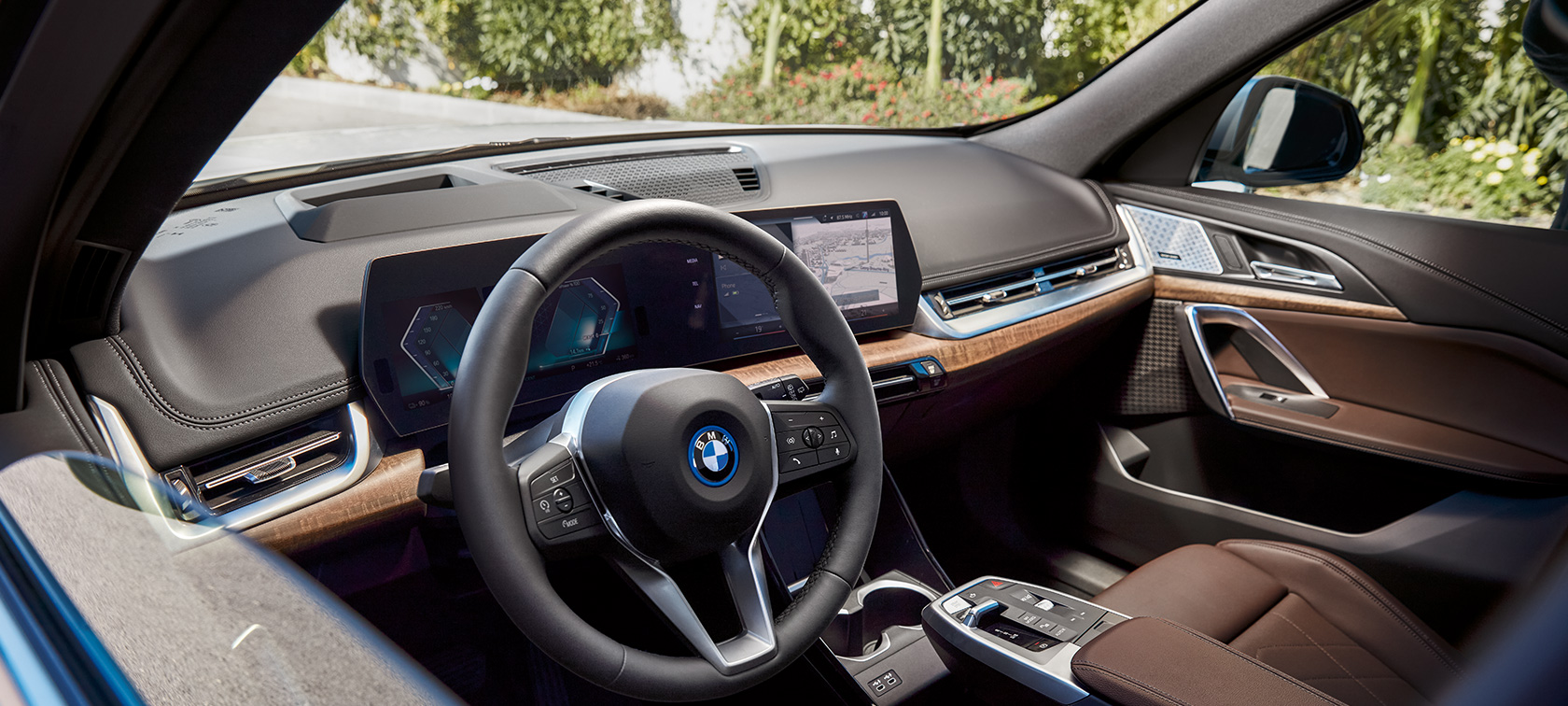 INTERIOR HIGHLIGHTS OF THE NEW BMW iX1.
Intuitive controls in the cockpit.
Fewer buttons, more intuition: the slim and frameless BMW Curved Display with touch and voice control is a true eye-catcher in the interior of the new BMW iX1 and at the same time your key interface to BMW iDrive.
Modern central console.
Modern operating concept on two levels: the classic manual switches have gone and make way for a central console with a switch/sliding control, operating elements of the latest generation and the integrated wireless charging tray on the lower level.
Luggage compartment.
The illuminated luggage compartment of the BMW iX1 offers a wide variety of stowage options. Features such as the folding floor insert and the reclining angle adjustment for the rear seat backrests give you additional luggage space – and greater scope for spontaneity.
LARGE LUGGAGE COMPARTMENT AND THE TRAILER TOW HITCH OF THE NEW BMW iX1.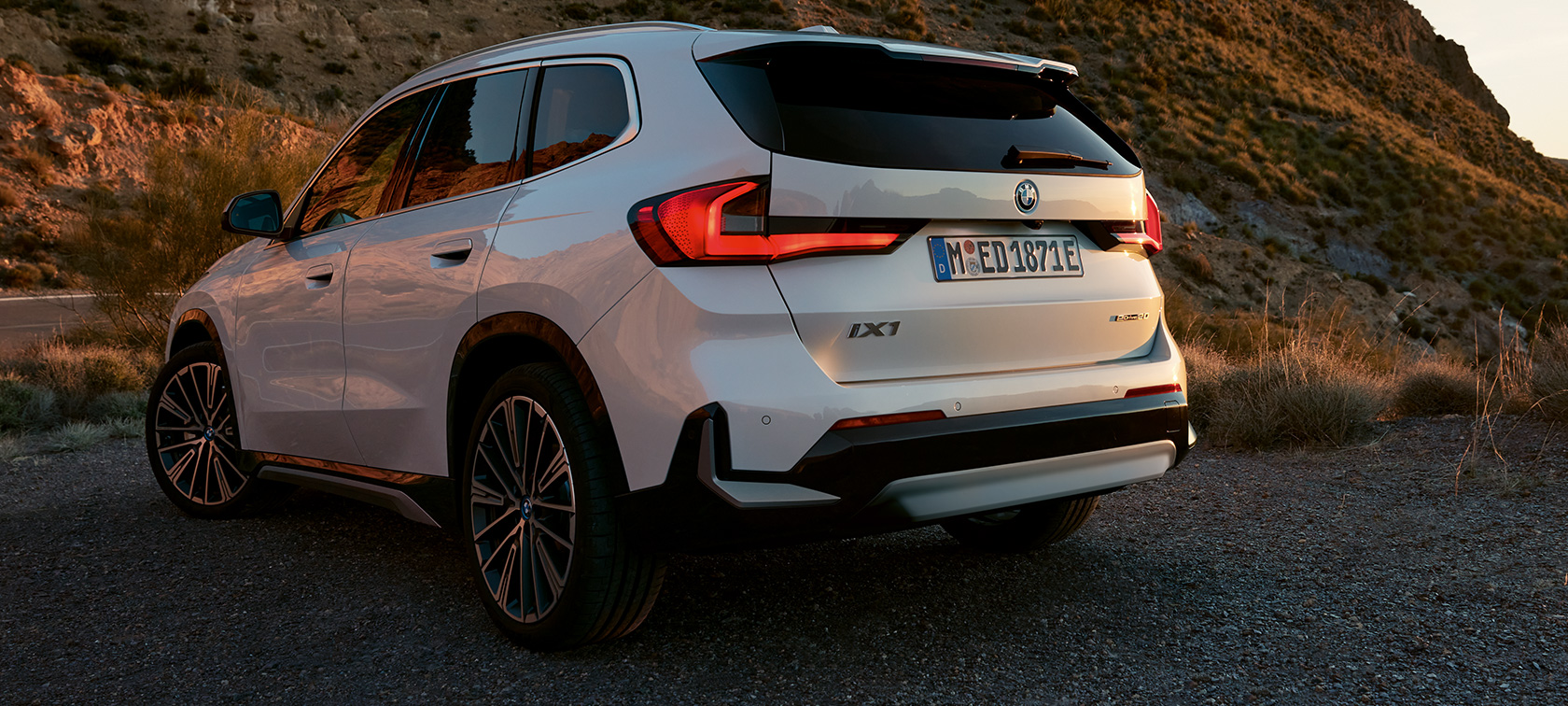 SUSTAINABILITY IN THE NEW BMW iX1.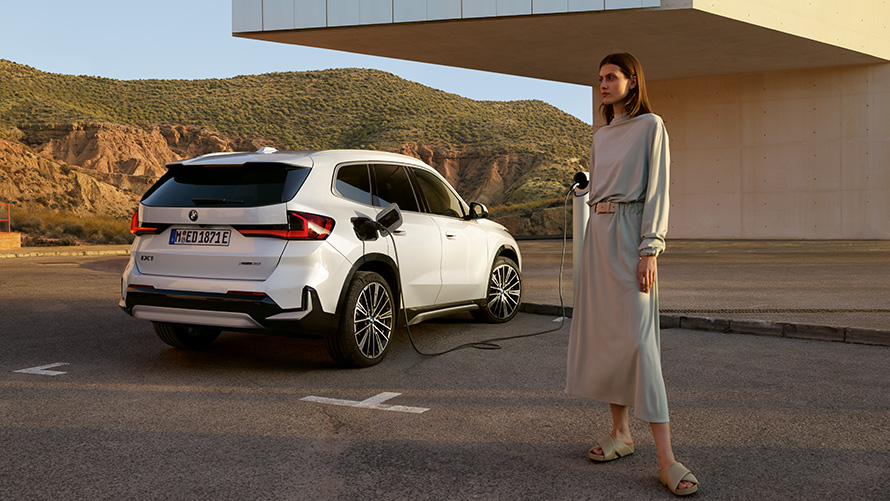 The raw materials cobalt and lithium used in the high-voltage battery of the new BMW iX1 originate from responsible mining
The motor of the new BMW iX1 manages entirely without rare earths
INNOVATION AND COMFORT IN THE NEW BMW iX1.
EXPERIENCE THE INNOVATION HIGHLIGHTS OF THE NEW BMW iX1.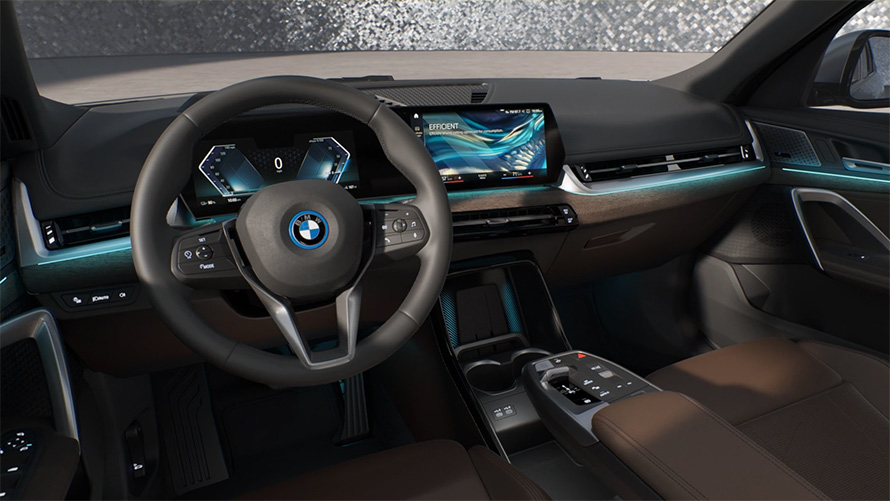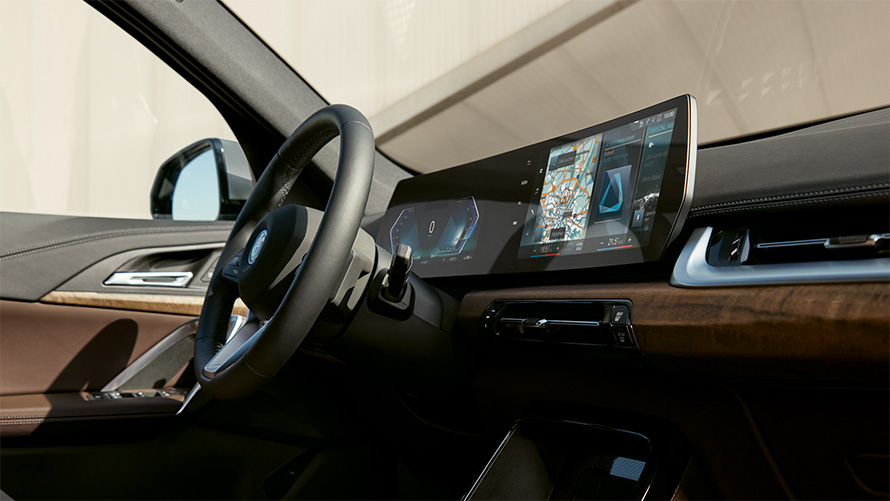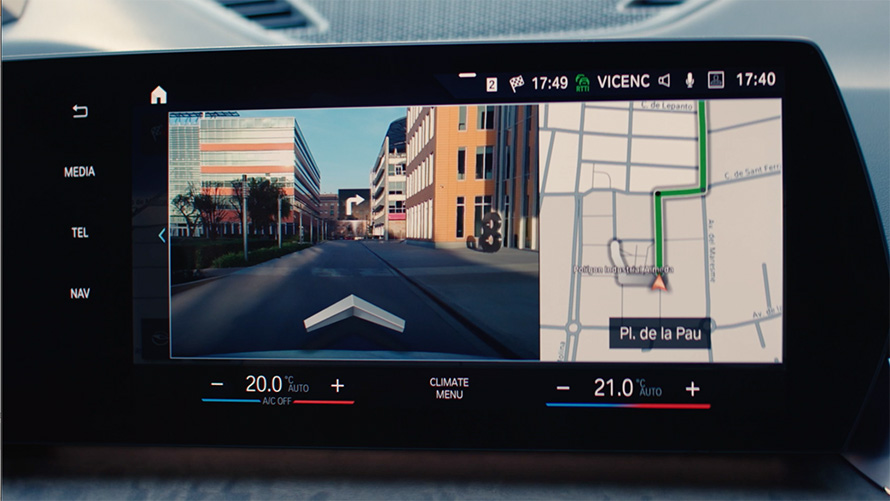 More information about My Modes.
More Information about Augmented View.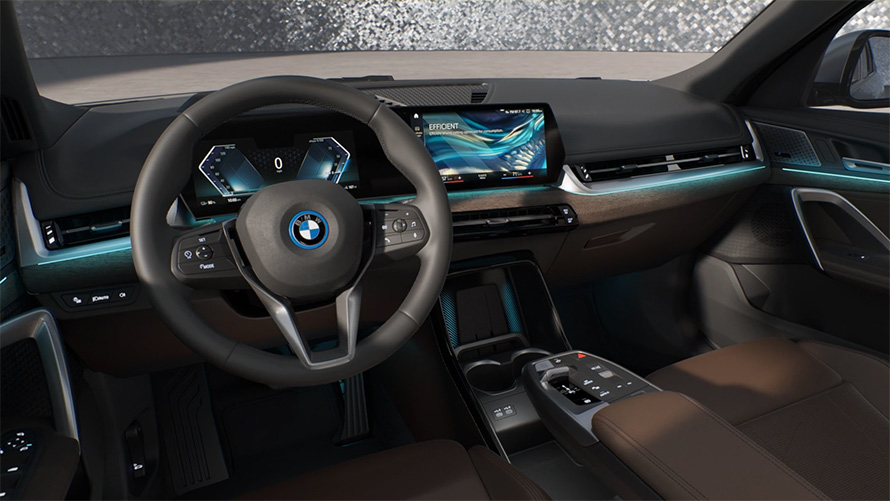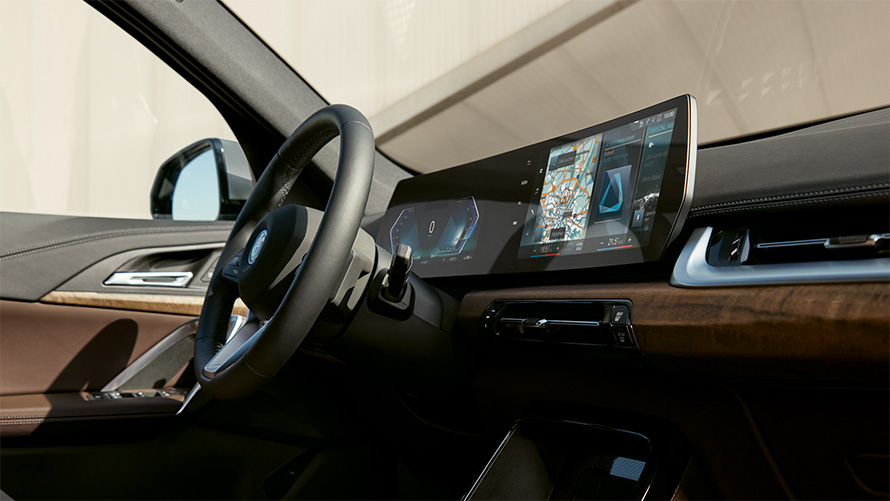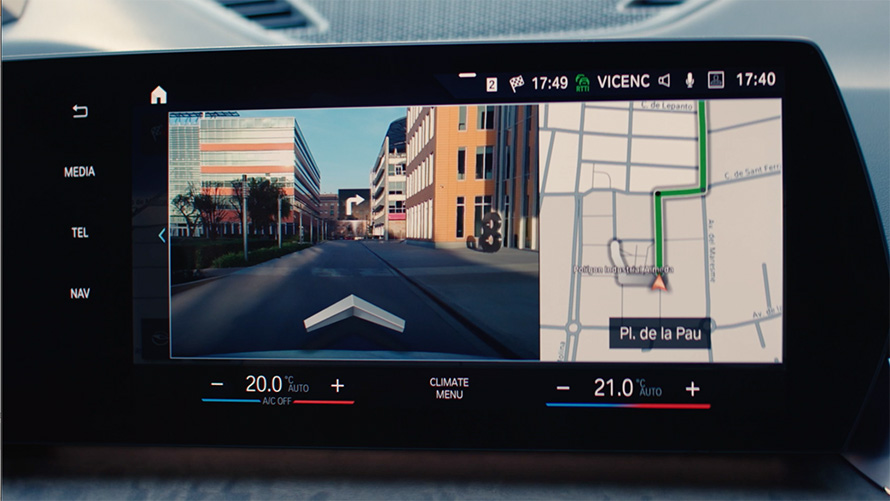 DIGITAL HIGHLIGHTS IN THE NEW BMW iX1.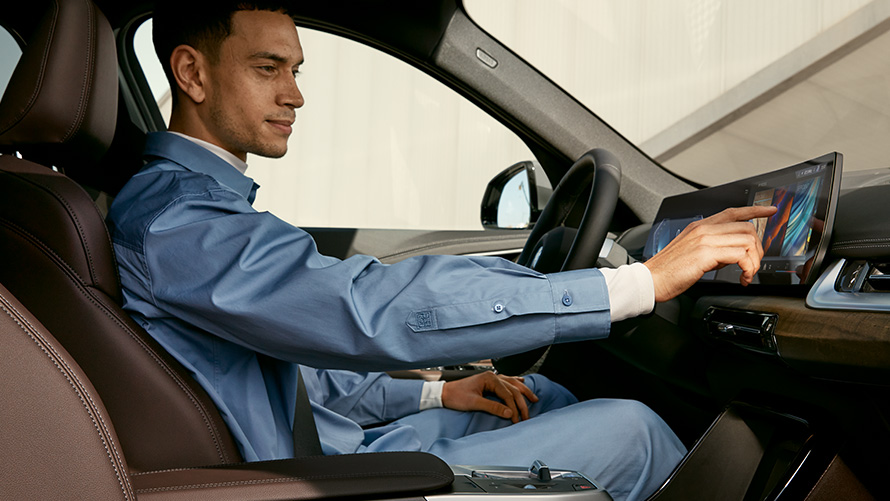 Always on the right track with the proactive route suggested by BMW Maps – Connected Navigation
On the move with your favourite apps: the smartphone integration of your new BMW iX1 supports Apple CarPlay and Android Auto
Simply insert and charge: the wireless charging tray of the new BMW iX1 charges your smartphone inductively
Active seat for driver and front passenger.
The oscillating seat base function provides optimum seating comfort with an electrically adjustable lumbar support incl. massage function.
Panoramic glass sunroof.
When open, the panoramic glass sunroof provides plenty of fresh air. When closed, it creates a welcoming, brightly lit atmosphere in the interior.
Trailer tow hitch.
The trailer coupling with electrically adjustable ball head. Trailer Stability Control and anti-theft security mounting increase safety.
Driving Assist.
Driving Assist automatically maintains lane, speed and distance and reduces the risk of accidents in numerous situations.
Reversing Assist.
Also manoeuvres you out of challenging situations: the Reversing Assist remembers the steering movements of the last 50 metres and automatically returns the vehicle precisely along the previously travelled path.
Parking Assist.
Parking Assist makes it easier for you to park and manoeuvre in tight spaces and prevents parking damage.
ORIGINAL BMW ACCESSORIES FOR THE NEW BMW iX1.
With Original BMW Accessories, you adapt your BMW to your personal wishes: the products are perfectly matched to the BMW iX1 in terms of quality, design and performance.
21" M Performance light alloy wheel double-spoke style 877 M Bicolour.
21" M Performance light alloy wheel double-spoke style 877 M in Bicolour Jet Black uni, gloss-lathed. Summer complete wheel set with tyre pressure monitor.
To the product
BMW Roof Box 420 black/titanium silver.
Black/titanium silver lockable roof box, accessible from both sides with a capacity of 420 litres, compatible with all BMW roof rack systems.
To the product
BMW all-weather floor mats front.
The perfectly fitted BMW all-weather floor mats protect the front footwell against moisture and dirt. In Black with BMW lettering.
To the product
TECHNICAL DATA OF THE FIRST-EVER BMW iX1.
BMW iX1 xDrive30.
CURRENT OFFERS FOR THE BMW iX1.
DOWNLOAD A PRICE LIST OR BROCHURE OF THE BMW iX1.
BMW SERVICES.
SERVICE AND ASSISTANCE FOR THE BMW X1.
BMW Motorplan.
Just let go and concentrate on what really matters – enjoying the sporty drive with your BMW iX1. With BMW Motorplan, you can do just that. BMW Motorplan is included in all new models for 5 years or 100 000 km and may be extended to a maximum of 7 years or 200 000 km.
Find out more about BMW Motorplan
BMW Teleservices.
With the innovative Teleservices of BMW ConnectedDrive your BMW helps you to keep a clear head: when maintenance is needed or in case of a malfunction it provides your preferred BMW Service Partner with all relevant vehicle data. Your Service Partner will then contact you to arrange an appointment. So you can rely on a fast and straightforward service and don't have to think of everything yourself. The only requirement: you have registered your vehicle online in the BMW ConnectedDrive Portal and have selected a Service Partner. Discover now how BMW Teleservices can bring more convenience to your life.
Find out more about BMW Teleservices
BMW On Call.
The free BMW On-Call service is available to all BMW drivers around the clock, 365 days a year. A single call – and our experts are at your service, either on the phone or on the scene if required.
Find out more about BMW On Call
PRICES, FINANCING AND LEASING OF THE FIRST-EVER BMW iX1.
BMW FINANCIAL SERVICES FOR THE FIRST-EVER BMW iX1.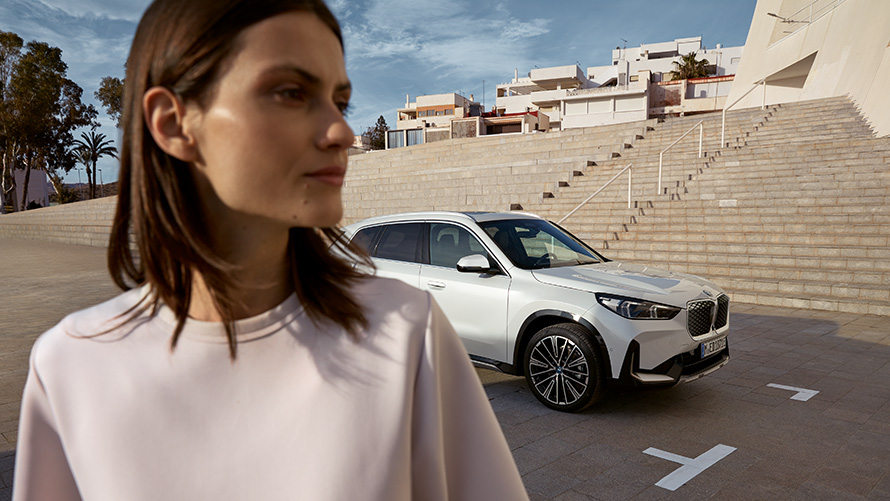 Whether for financing or leasing – each of our offers is individually adapted to your needs and desires.
THE FIRST FULLY ELECTRIC BMW IX1.
​
Power consumption and range.
BMW iX1 xDrive30:
Energy consumption, combined WLTP in kWh/100 km: 18.1–16.8
Electric range, WLTP in km: 417–440

* The performance depends on the state of charge of the battery.

Official figures for electricity consumption and electric range were determined in accordance with the prescribed measurement procedure and comply with Regulation (EU) 715/2007 as amended. WLTP figures take into account any optional equipment in the case of ranges. For vehicles newly type-approved since 01.01.2021, the official specifications exist only according to WLTP. Further information on the NEDC and WLTP measurement methods can be found at www.bmw.de/wltp
Power consumption and range.
BMW iX1 xDrive30:
Energy consumption in kWh/100 km: 18.3
Electric range in km: 400
*The published fuel consumption and CO2 emission figures are established according to legislated technical specifications (UNECE Regulation 101/UN Regulation 83 and SANS 20101 standards), which sets out the procedures that are used to measure the CO2 emissions and fuel consumption. The claimed figures are established using specific tests under standardised, carefully controlled conditions and may differ from consumption achieved under real world conditions with the influences of altitude, road surface, geographic conditions, vehicle options, temperature, humidity, tyres size and driving behaviour amongst others. EU Unladen mass refers to a vehicle with standard equipment, with 90% fuel tank fill, including a driver (68 kg) and luggage (7 kg). Optional extras and accessories will generally increase this figure. Please contact your preferred authorized BMW dealer or BMW South Africa (Pty) Ltd. for information on vehicles that are available for sale, and the various specifications and options of vehicles that are available. Trailer loads may not exceed the load stated for un-braked or for braked trailer and the max tow bar load may not exceed the value stated. Vehicle heights are measured without the aerial. The heights are slightly higher if measured over the aerial. Measurements are stated for vehicles with standard fittings and may vary when optional equipment is fitted. The technical data stated refers to the current version of the model selected. Due to certain legal regulations in different countries, deviations in the technical data described here can occur.
Read more
[1] BMW Select offer from BMW Financial Services (South Africa) (Pty) Ltd., an Authorised Financial Services (FSP 4623) and Registered Credit Provider (NCRCP 2341). Total cost includes an initiation fee and monthly service fee (R69 p/m) and excludes licence and registration. Linked to current Prime Rate. The above offer is calculated on 48 instalments and a 80 000 km contract limit. Residual may apply subject to deal structure. Offer valid until 31 December 2023 and subject to stock availability. Rate may vary if price differs from the example displayed in this advert. Not available in conjunction with any other BMW iX1 offer. Models shown with optional extras not included in pricing. Terms and conditions apply.
Read more