BMW X7 M60i
The new BMW X7 M60i xDrive impresses with high performance, the characteristic design of an M automobile and top functionality.
The M TwinPower Turbo V8-cylinder petrol engine develops a powerful 390 kW.
Numerous exterior and interior design elements feature M-specific styling.
Drivers and their passengers enjoy the outstanding spaciousness and comfort on three rows of seats in a sporty-elegantly designed ambience.
BMW X7 M60i xDrive:
Fuel consumption in l/100 km (combined): 12.2
CO2 emissions in g/km (combined): 277

Read more
SUGGESTED CONFIGURATIONS FOR THE NEW BMW X7.
BMW X7 xDrive40d SAV
ESSENCE
Aluminium running boards
High beam assist
Comfort package
BMW X7 xDrive40d SAV
BALANCE
M Sport package Pro
BMW Crystal headlights Iconic Glow
BMW Gesture Control
6 Seater
Bowers & Wilkins Diamond surround sound system
Sun protection glazing
BMW X7 M60i xDRIVE: PERFORMANCE.
Drivetrain, suspension and performance.
BMW X7 M60i xDrive.
M TwinPower Turbo V8-cylinder petrol engine with 390 kW*

8-speed Steptronic Sport transmission

M-specific 2-axle air suspension

390 kW, 750 Nm, 0-100 km/h in 4.7 s*
BMW X7 M60i xDRIVE – PRODUCT HIGHLIGHTS.
DRIVING DYNAMICS AND DESIGN FEATURES OF THE NEW BMW X7 M60i xDRIVE.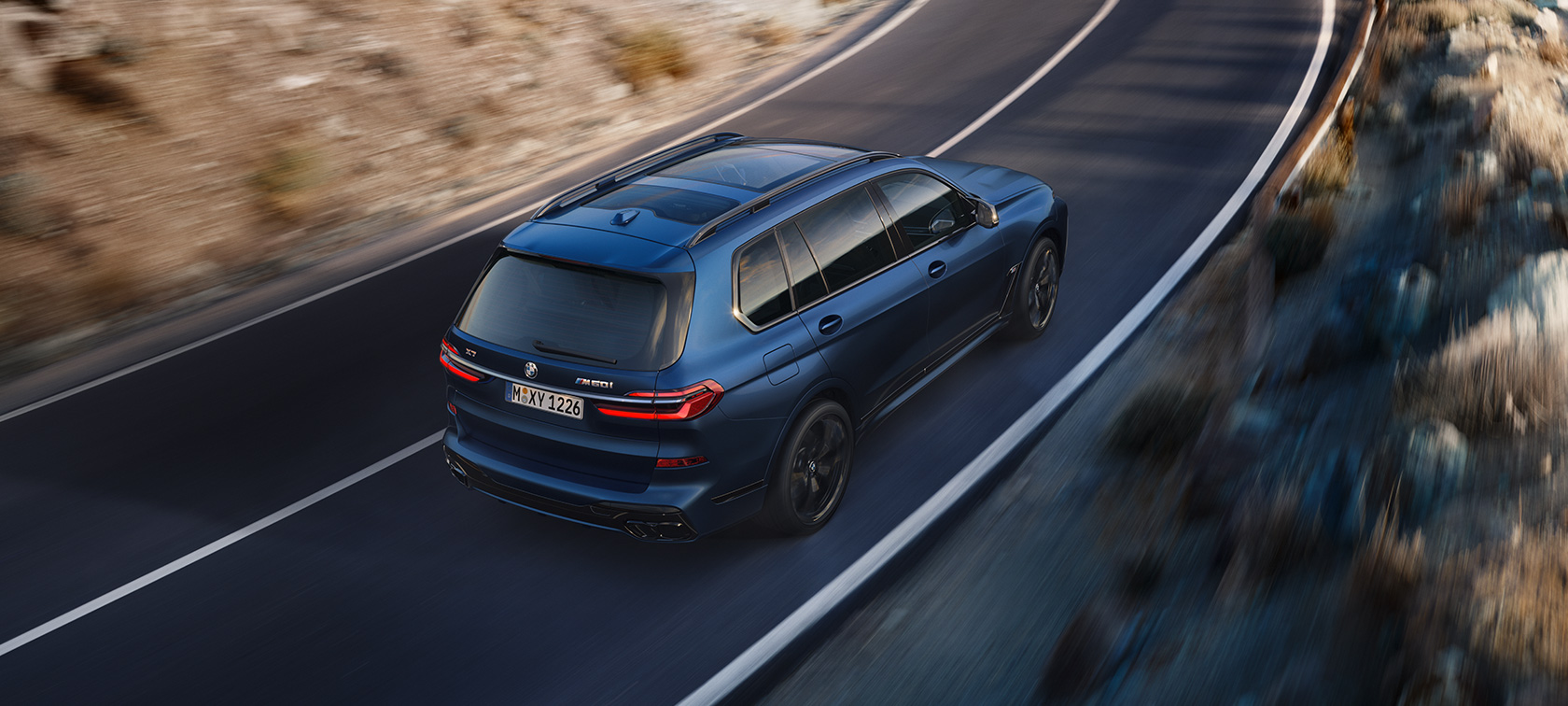 Dynamics
Exterior
Interior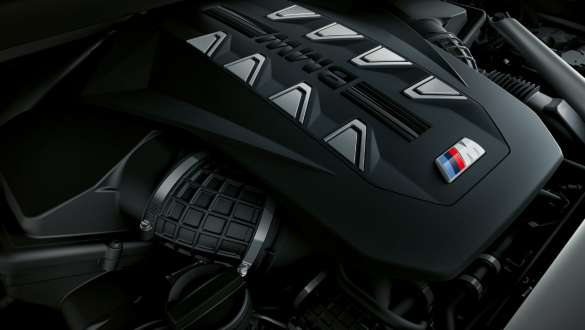 M TwinPower Turbo V8-cylinder petrol engine.
The M TwinPower Turbo V8-cylinder petrol engine combines innovations such as two turbochargers with electric blow-off valve, cross-bank exhaust manifold and even more powerful engine electronics with proven BMW systems. All in all, this makes for impressive performance characteristics combined with high efficiency and low emissions.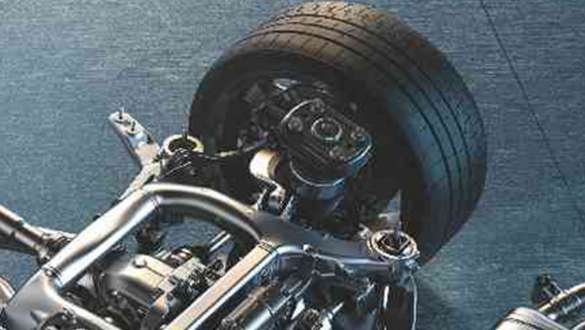 M-specific suspension.
The M-specific 2-axle air suspension permits especially comfortable motoring with high driving dynamics. Integral Active Steering with rear wheels that share the steering further increases agility and manoeuvrability.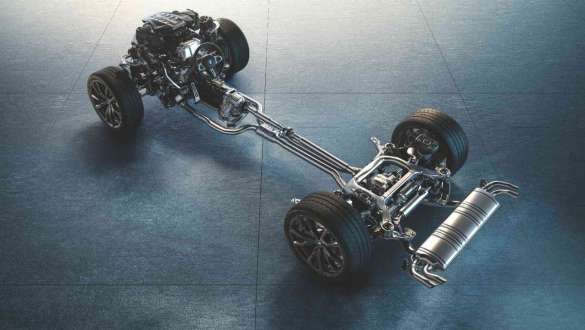 M sport differential.
The M sport differential  ptimized traction and driving stability when changing lanes or accelerating out of a bend, when taking bends at high speeds or on different road surfaces. Traction is  ptimized with the help of an electronically operated device that reduces the difference in revolution speed between the rear wheels.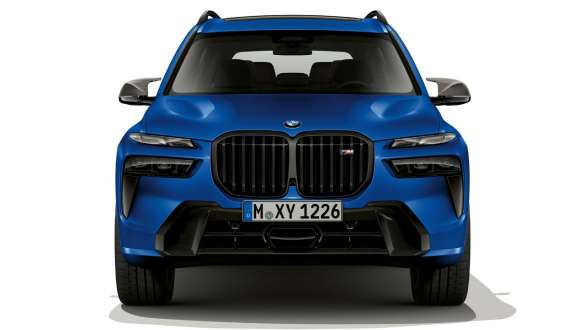 The front design.
The new interpretation of the double headlights with split light function indicates that the BMW X7 M60i xDrive belongs to the BMW luxury class. The kidney grille with M logo and the exterior mirrors with M double bar design unmistakably signals its M-typical dynamics.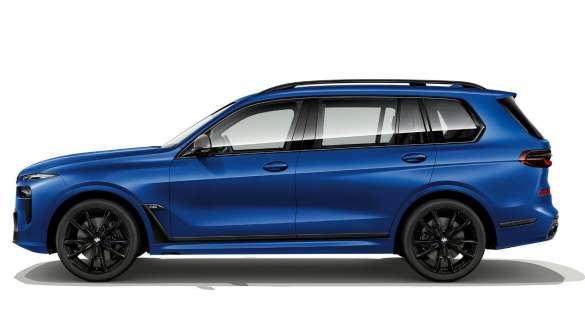 The side view.
With its dynamic contours and accentuated surfaces in black high gloss, the BMW X7 M60i xDrive appears authoritatively athletic in its side view. The exclusive M logo next to the Air Breather also underlines its sporty character from this perspective.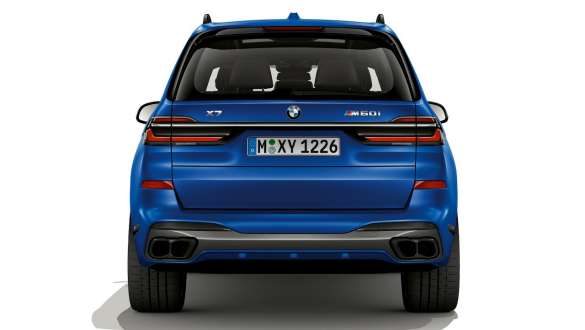 The rear design.
Thanks to its broad stance, the distinctive opposite dual tailpipes and the exclusive model logo, the rear section unmistakably reveals the outstanding performance of the new BMW X7 M60i xDrive.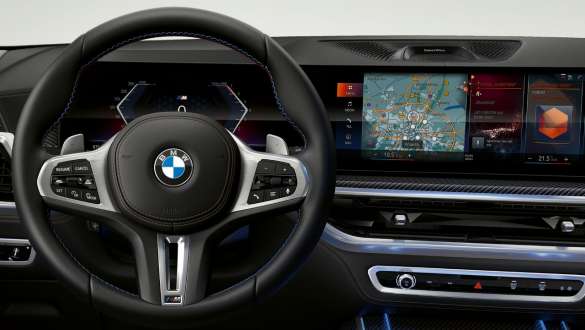 M leather steering wheel.
The M leather steering wheel including multifunction buttons, an M badge and an integrated driver-side airbag is featured in three-spoke design. With a reinforced steering wheel rim in leather 'Walknappa' Black, with stitching in M colors and contoured thumb rests, it conveys a sporty, direct steering sensation – not least thanks to integrated shift paddles.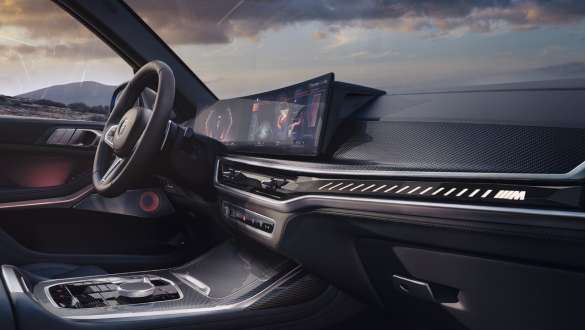 BMW Curved Display and M-specific Light Bar.
The BMW Curved Display combines a 12.3'' instrument cluster with a touch-capable 14.9'' Control Display and provides a full overview of all the important information. The new Light Bar runs below the decorative trim and inspires with its prism structure and the exclusive M-specific styling.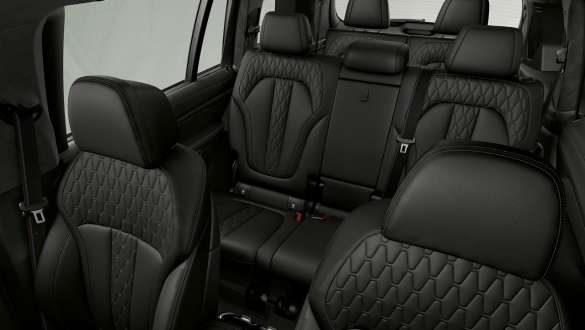 7 seats.
Thanks to the two individually moveable and adjustable individual seats in the 2nd row of seats with 7 seats in the vehicle, rear passengers enjoy a higher level of travel comfort. At the same time, access to the 3rd row of seats is facilitated.
SPORTY IMPRESSIONS OF THE NEW X7 M60i xDRIVE.
THE EXTERIOR DESIGN HIGHLIGHTS OF THE NEW BMW X7 M60i xDRIVE.
EXPRESSIVE FRONT SECTION WITH POWERFUL AND DISTINCTIVE AIR INLETS.
GENEROUSLY PROPORTIONED DESIGN OF SURFACES AND VISIBLE SPACIOUSNESS.
Front BMW X7 M60i xDrive G07 LCI Frozen Marina Bay Blue standing close-up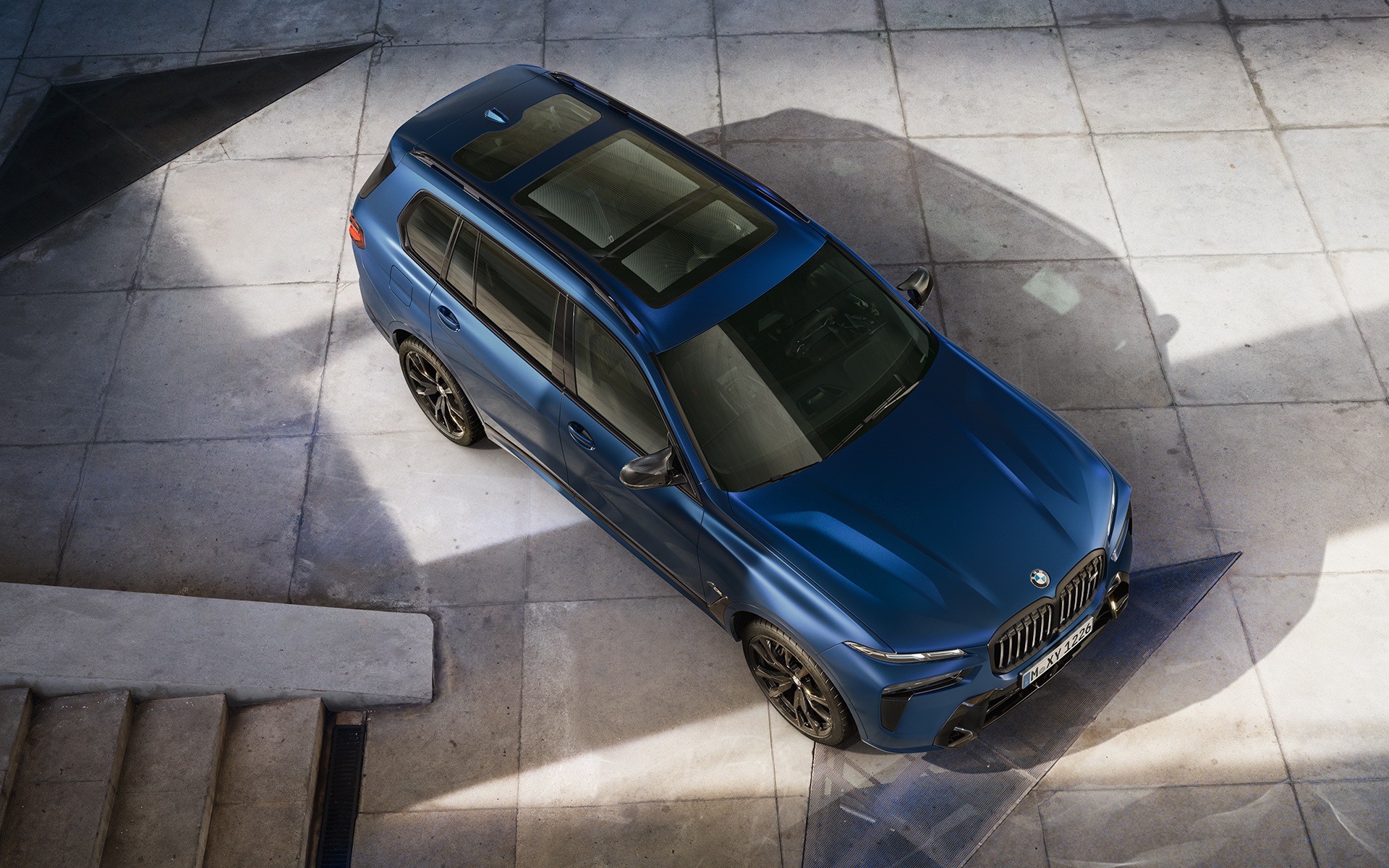 BMW X7 M60i xDrive G07 LCI Frozen Marina Bay Blue standing bird's-eye view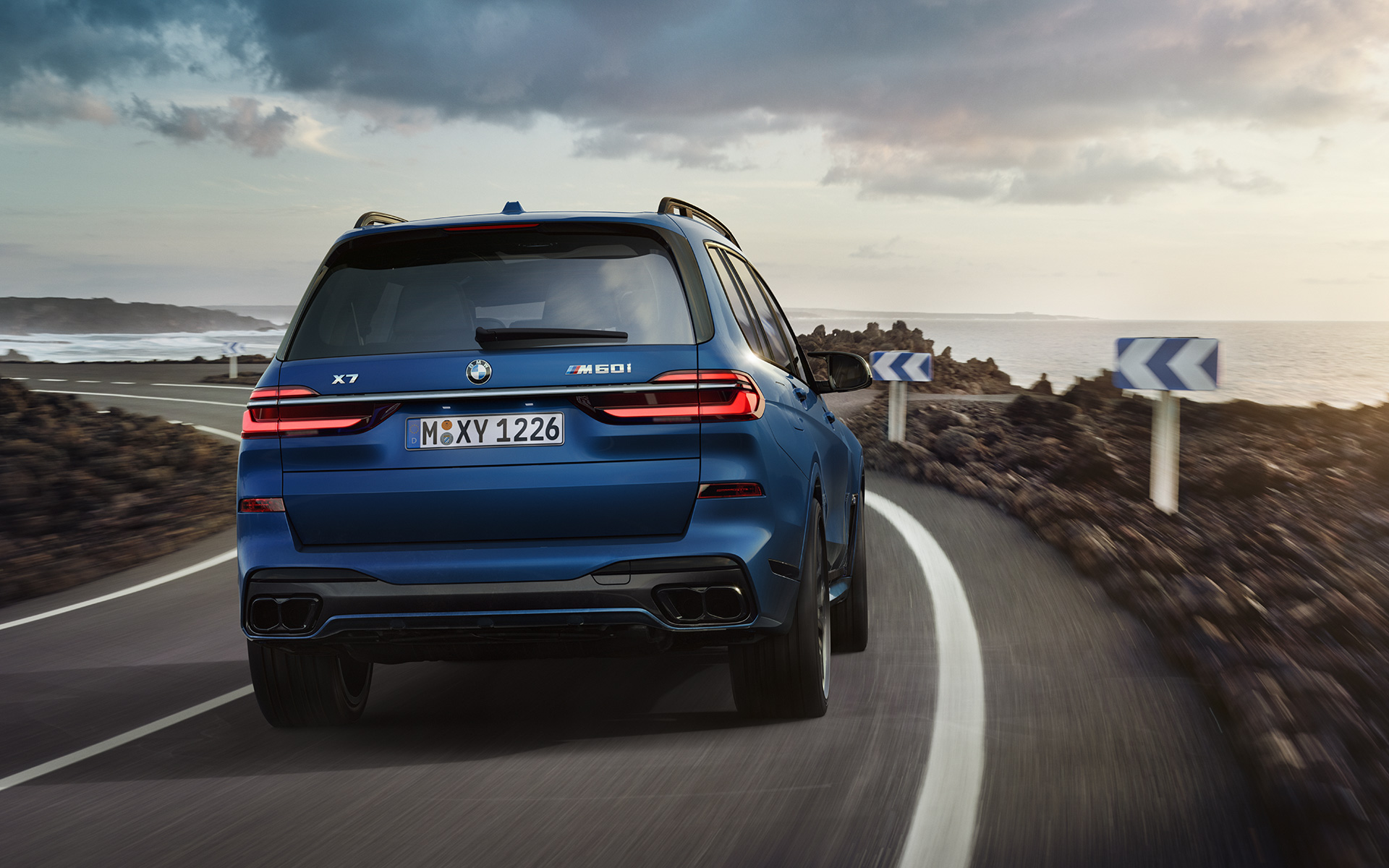 BMW X7 M60i xDrive G07 LCI Frozen Marina Bay Blue rear view driving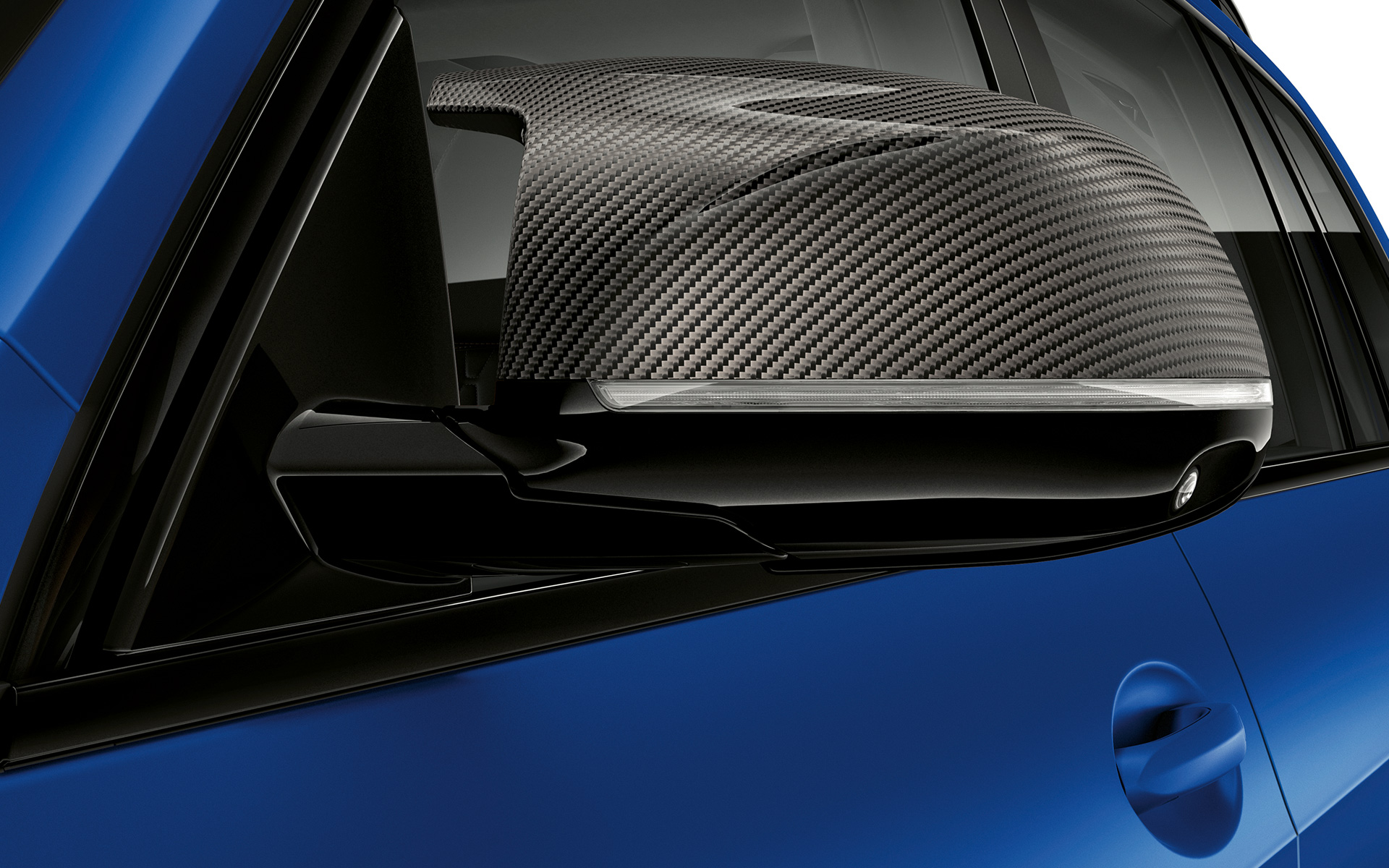 BMW X7 M60i xDrive G07 LCI M Carbon mirror caps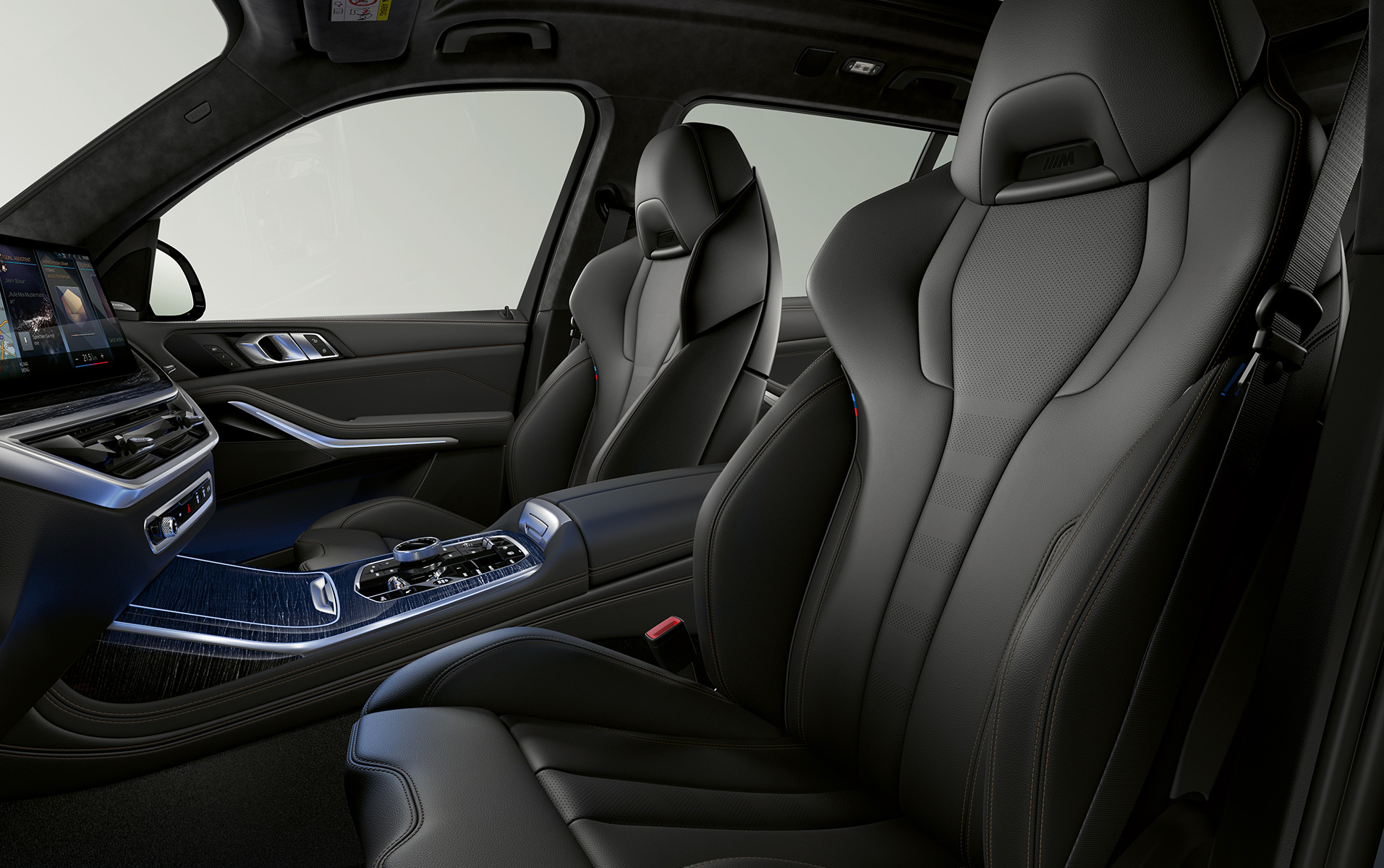 BMW X7 M60i xDrive G07 LCI M multifunction seat
EXPRESSIVE FRONT SECTION WITH POWERFUL AND DISTINCTIVE AIR INLETS.
GENEROUSLY PROPORTIONED DESIGN OF SURFACES AND VISIBLE SPACIOUSNESS.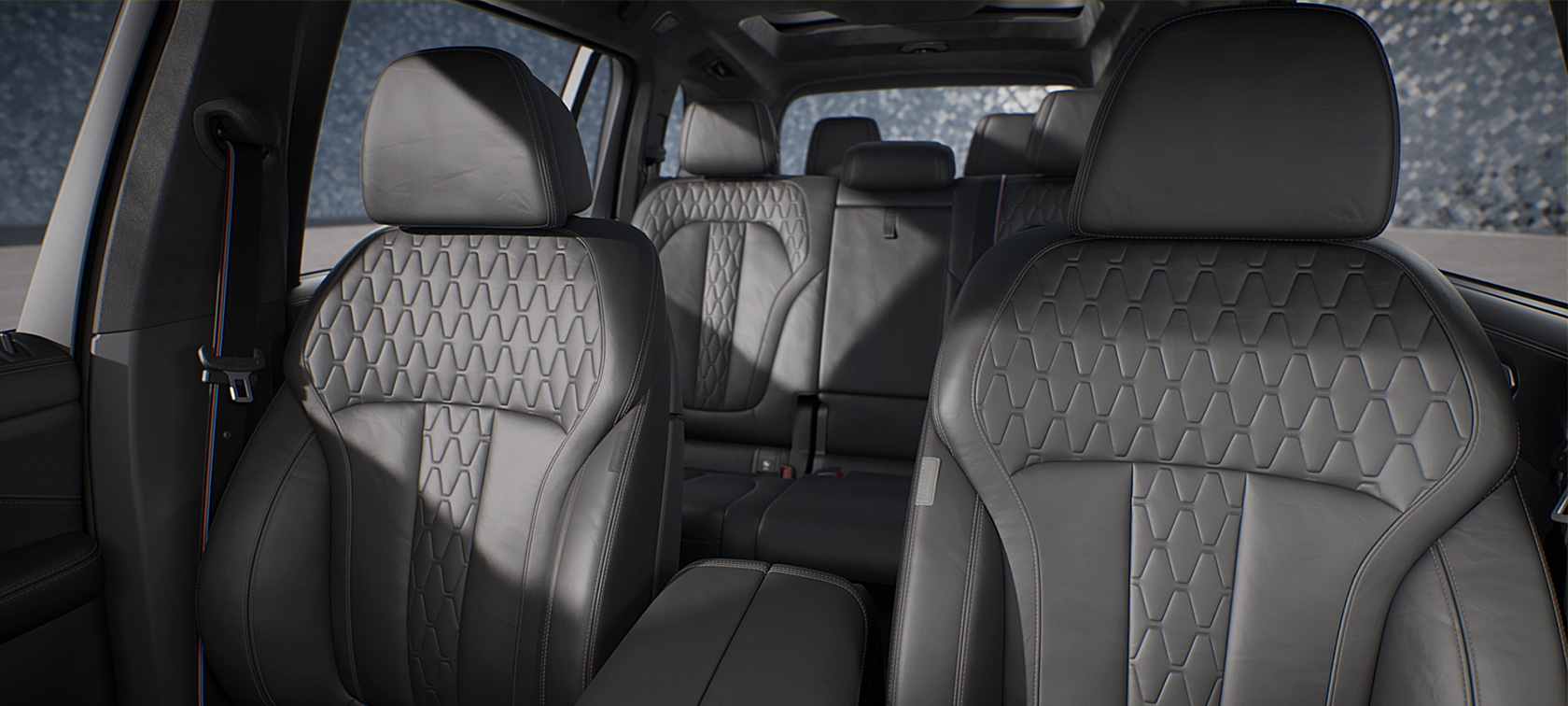 THE INTERIOR DESIGN OF THE NEW X7 M60I XDRIVE.
BMW X7 M60i xDRIVE: COCKPIT & TECHNOLOGIES.
M-SPECIFIC INSTRUMENTS, INTUITIVE OPERATING CONCEPT, DIGITAL SERVICES AND INTELLIGENT DRIVER ASSISTANCE SYSTEMS OF THE NEW BMW X7 M60i xDRIVE.
M-specific instruments & operational concept
Connectivity & digital services
Driver assistance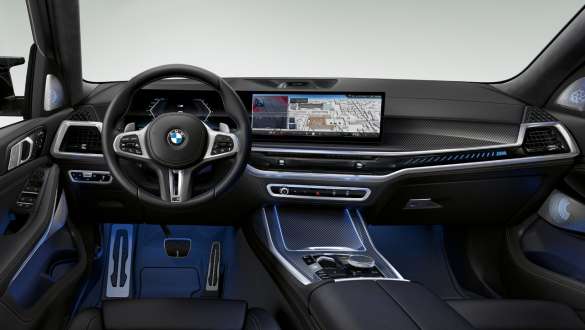 The cockpit.
The M-specific instrument cluster and the Light Bar with M logo ensure that you always have all the important information in view and enjoy an exclusive, modern and digital driving experience in the cockpit.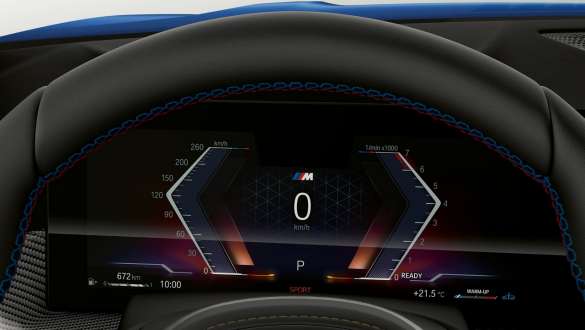 BMW Live Cockpit Professional.
Reach your destination even more comfortably and safely: BMW Live Cockpit Professional adds more useful functions to BMW Live Cockpit Plus. The Head-up display projects driving-relevant information directly into your field of view. Augmented View vividly displays instructions given by the navigation system in a live video image of the real environment.
BMW iDrive.
Thanks to BMW iDrive and the configurable BMW Operating System 8, you enjoy a completely intuitive user experience. Interact easily and naturally with your new BMW X7 M60i xDrive by touch, voice, the multifunction steering wheel or via Intelligent Personal Assistant.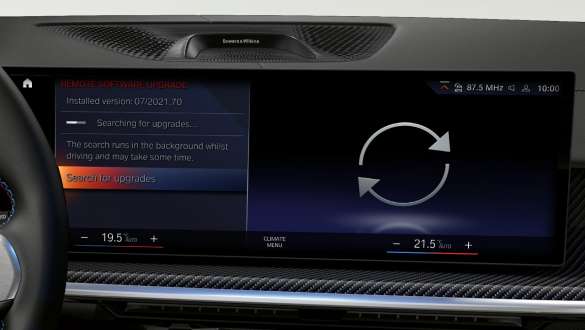 BMW ConnectedDrive Upgrades.
Always up-to-date: the "BMW ConnectedDrive Upgrades" offer gives you constant access to the latest vehicle functions in your new BMW X7 M60i xDrive, which you can install the functions quite conveniently over the air – precisely when you need them.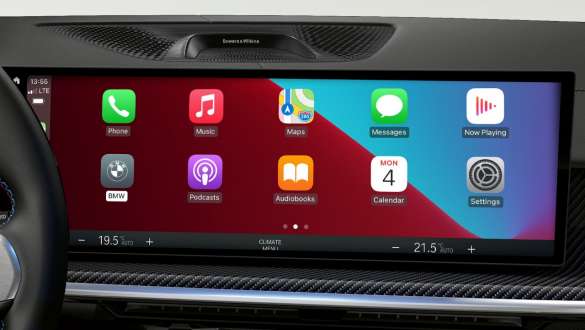 Smartphone integration.
Why go without the features of your smartphone in your BMW when you can continue operating it as usual? Smartphone integration connects your smartphone wirelessly to your vehicle via Apple CarPlay and Android Auto. This allows you to conveniently use functions and various apps directly via the control display.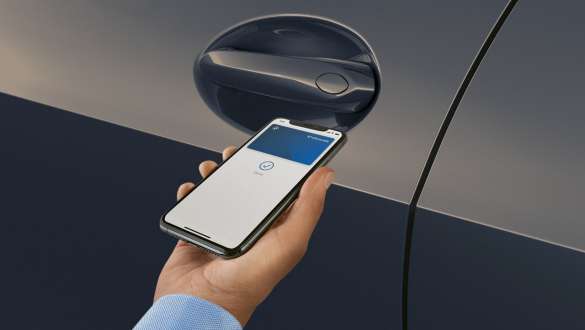 Comfort Access.
The Comfort Access makes it possible to open all of the vehicle doors and the luggage compartment, without using the key. When approaching, the welcome greeting is activated even before the doors unlock automatically. You can additionally set up BMW Digital Key on a smartphone – if compatible – or use the Key Card for accessing and starting the vehicle.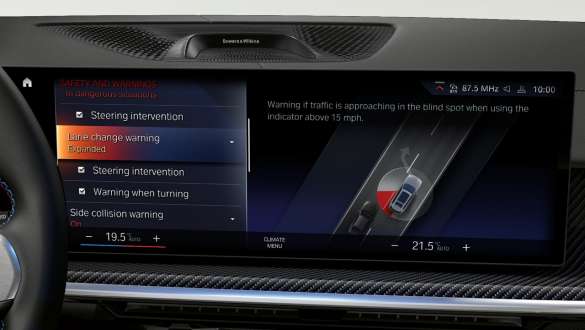 Driving Assist Professional.
A real all-rounder: The Driving Assist Professional not only maintains the desired speed and distance to the vehicle in front, but also keeps your BMW on track by steering interventions. This relieves the strain, especially on longer journeys. Other functions help you avoid collisions and exceeding the speed limit.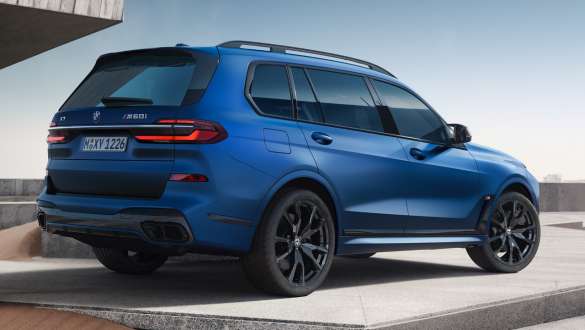 Parking Assist.
Parking Assist makes it easier for you to park and manoeuvre in tight spaces. The Reversing Assist Camera, distance sensors and an emergency braking function prevent parking damage. In addition, your BMW recognises suitable parking spaces as you drive past and parks automatically if necessary. Practical: The Reversing Assistant supports you, for example, in narrow driveways.
BMW Drive Recorder.
The BMW Drive Recorder allows you to record a video from the vehicle environment and play the video on the central Control Display or via USB export also on your device. Important vehicle information such as speed and GPS position are stored synchronously with the video. The BMW Drive Recorder has two sub-functions, the Event Recorder and the Crash Recorder.
TECHNICAL DATA OF THE NEW BMW X7 M60i xDRIVE.
BMW X7 M60i xDrive.
DOWNLOAD A PRICE LIST OR BROCHURE OF THE BMW X7 M60i xDRIVE.
BMW SERVICES.
SERVICE AND ASSISTANCE FOR THE BMW X7.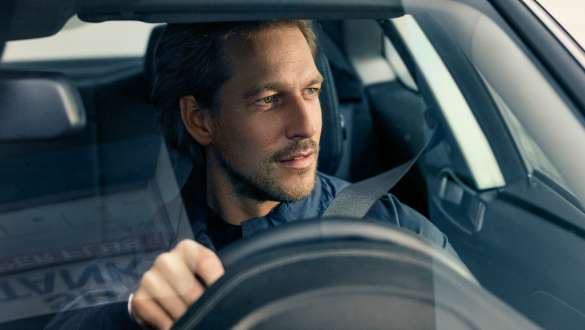 BMW Motorplan.
Just let go and concentrate on what really matters – enjoying the sporty drive with your BMW X7. With BMW Motorplan, you can do just that. BMW Motorplan is included in all new models for 5 years or 100 000 km and may be extended to a maximum of 7 years or 200 000 km.
Find out more about BMW Motorplan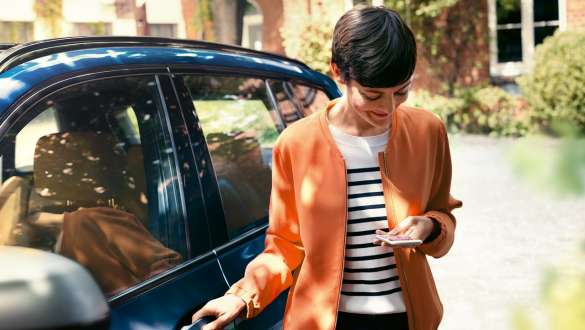 BMW Teleservices.
With the innovative Teleservices of BMW ConnectedDrive your BMW helps you to keep a clear head: when maintenance is needed or in case of a malfunction it provides your preferred BMW Service Partner with all relevant vehicle data. Your Service Partner will then contact you to arrange an appointment. So you can rely on a fast and straightforward service and don't have to think of everything yourself. The only requirement: you have registered your vehicle online in the BMW ConnectedDrive Portal and have selected a Service Partner. Discover now how BMW Teleservices can bring more convenience to your life.
Find out more about BMW Teleservices
BMW On Call.
The free BMW On-Call service is available to all BMW drivers around the clock, 365 days a year. A single call – and our experts are at your service, either on the phone or on the scene if required.
Find out more about BMW On Call
ORIGINAL BMW ACCESSORIES FOR THE NEW BMW X7 M60i xDRIVE.
With Original BMW Accessories, you adapt your BMW to your personal wishes: The products are perfectly matched to the new BMW X7 M60i xDrive in terms of quality, design and performance.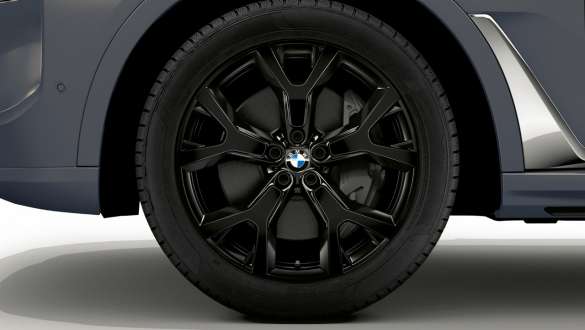 21-inch BMW light alloy wheel Y-spoke 752 Jet Black, winter complete wheel with RDCi.
High-quality 21" BMW light alloy wheel Y-spoke style 752 in Jet Black. TPMS winter complete wheel with run-flat tyre, wheel size 9.5J x 21. Not in conjunction with snow chains.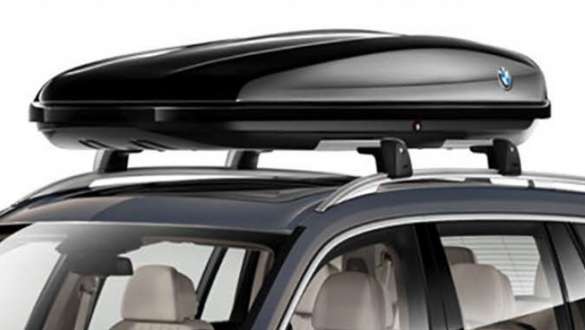 BMW roof box 520 black/titanium silver.
Black/titanium silver lockable roof box, accessible from both sides with a capacity of 520 litres, compatible with all BMW roof rack systems.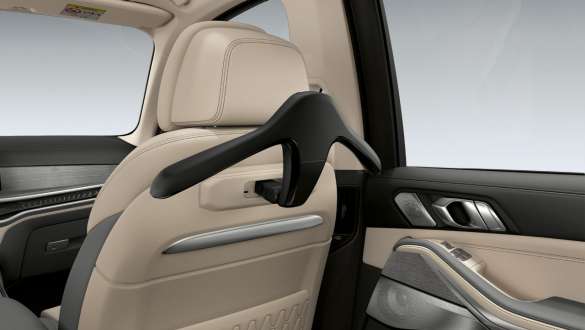 BMW clothes hanger for Travel & Comfort System.
The clothes hanger can be snapped into the basic carrier or the optional equipment "Travel & Comfort" and can also be used outside of the car.
FINANCING AND INSURANCE FOR THE NEW BMW X7 M60i xDRIVE.
BMW FINANCIAL SERVICES FOR THE NEW BMW X7 M60i xDRIVE.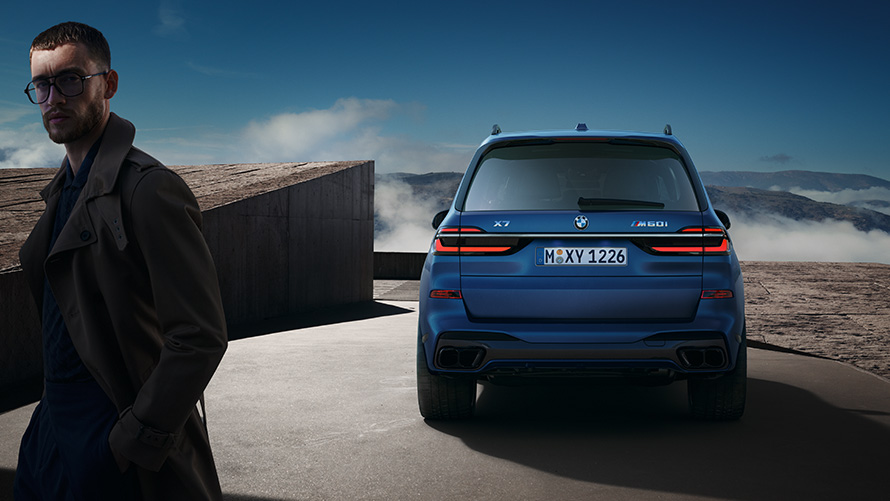 Whether for financing or insurance – each of our offers is individually adapted to your needs and desires.
​
Fuel consumption and CO2 emissions.
BMW X7 M60i xDrive*:
Fuel consumption in l/100 km (combined): 13.3–12.2
CO2 emissions in g/km (combined): 303–278

*All figures are preliminary values

Official figures for fuel consumption, CO2 emissions, electricity consumption and electric range were determined in accordance with the prescribed measurement procedure and comply with Regulation (EU) 715/2007 as amended. WLTP figures take into account any optional equipment in the case of ranges. For vehicles newly type-approved since 01.01.2021, the official specifications exist only according to WLTP. Further information on the NEDC and WLTP measurement methods can be found at www.bmw.de/wltp

** Equipment optionally available

FUEL CONSUMPTION AND CO2 EMISSIONS.
BMW X7 M60i xDrive:
Fuel consumption in l/100 km (combined): 12.2
CO2 emissions in g/km (combined): 277
*The published fuel consumption and CO2 emission figures are established according to legislated technical specifications (UNECE Regulation 101/UN Regulation 83 and SANS 20101 standards), which sets out the procedures that are used to measure the CO2 emissions and fuel consumption. The claimed figures are established using specific tests under standardised, carefully controlled conditions and may differ from consumption achieved under real world conditions with the influences of altitude, road surface, geographic conditions, vehicle options, temperature, humidity, tyres size and driving behaviour amongst others. EU Unladen mass refers to a vehicle with standard equipment, with 90% fuel tank fill, including a driver (68 kg) and luggage (7 kg). Optional extras and accessories will generally increase this figure. Please contact your preferred authorized BMW dealer or BMW South Africa (Pty) Ltd. for information on vehicles that are available for sale, and the various specifications and options of vehicles that are available. Trailer loads may not exceed the load stated for un-braked or for braked trailer and the max tow bar load may not exceed the value stated. Vehicle heights are measured without the aerial. The heights are slightly higher if measured over the aerial. Measurements are stated for vehicles with standard fittings and may vary when optional equipment is fitted. The technical data stated refers to the current version of the model selected. Due to certain legal regulations in different countries, deviations in the technical data described here can occur.
Read more