TECHNICAL DATA OF THE BMW i4 M50.*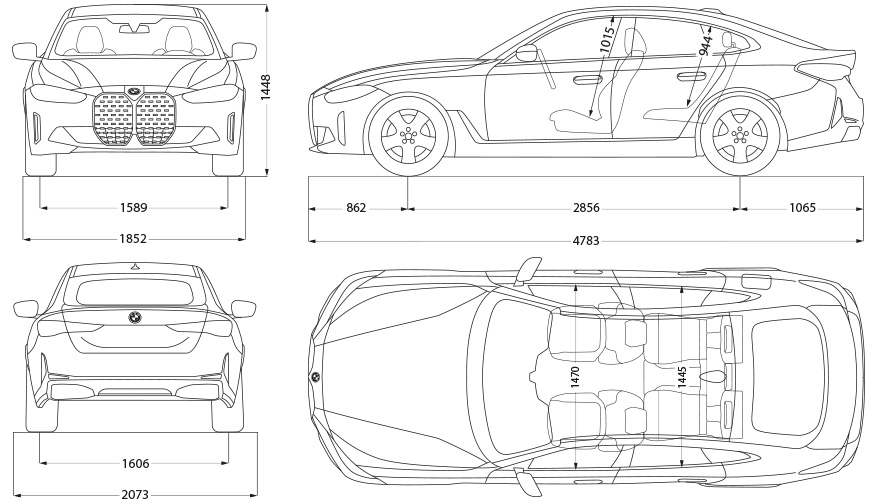 Weight

| | |
| --- | --- |
| Unladen weight in kg (EU) | 2,290 |
| Max. permissible weight in kg | 2,735 |
| Permitted load in kg | 520 |
| Permitted axle load front/rear in kg | 1,270/1,550 |
| Luggage capacity min. (seats up or roof down) in l | 470 |
| Luggage capacity max. (seats down or roof up) in l | 1,290 |
Electric engine

| | |
| --- | --- |
| Electric engine power kW | 400 |
| Electric Engine torque (Nm) | 795 |
Performance

| | |
| --- | --- |
| Top speed fully electric in km/h | 225 |
| Acceleration 0–100 km/h in s | 3.9 |
Range and charging

| | |
| --- | --- |
| Electric range in km | 416-521 |
| Capacity of lithium-ion battery in kWh | 80.7/83.9 |
| DC charging time in minutes, e.g. at DC fast charging station (charging power 205 kW; 10% - 80 %) | 31 min |
| AC charging time in hours, e.g. with Flexible Fast Charger / Wallbox (charging power 11 kW, 0% - 100%) | 8.25 h |
Consumption

| | |
| --- | --- |
| Energy consumption in kWh/100 km | 22.5-18 |
| Fuel consumption combined in l/100 km | 0 |
| CO2 emissions combined in g/km | 0 |
Wheels

| | |
| --- | --- |
| Tyre dimensions front | 245/40 R19 100 Y XL |
| Tyre dimensions rear | 255/40 R19 103 Y XL |
| Wheel dimensions and material front | 8,5Jx19 |
| Wheel dimensions and material rear | 9Jx19 |
Energy consumption and CO2 emissions of the BMW i4 M50.
* Values are preliminary; measured according to the WLTP test cycle

** Market-specific offer valid for new vehicles from BMW branches and dealers in Europe in the BMW Charging Network.

BMW i4 M50(1):
Power consumption in kWh/100 km: 24–19
CO2 emissions in g/km (combined): 0

The values of the vehicles labelled with (1) are preliminary.

Official data on power consumption and electric range were determined in accordance with the mandatory measurement procedure and comply with Regulation (EU) 715/2007 valid at the time of type approval. In case of a range, figures in the WLTP take into account any optional equipment. For newly type-tested vehicles since 01.01.2021, the official data no longer exist according to NEDC, but only according to WLTP. For more information on the WLTP and NEDC measurement procedures, see www.bmw.de/wltp
Read more
​
Global shortages on standard and optional equipment.
Please note that certain standard and optional equipment may not be available on selected vehicles at present. Please check the listed features on your vehicle when placing your order and confirm the exact delivery date after placing the order with your preferred Retailer, as delays are possible.
​
Energy consumption and CO2 emissions of the BMW i4 M50.
* Values are preliminary; measured according to the WLTP test cycle

** Market-specific offer valid for new vehicles from BMW branches and dealers in Europe in the BMW Charging Network.

BMW i4 M50(1):
Power consumption in kWh/100 km: 22.5-18
CO2 emissions in g/km (combined): 0

The values of the vehicles labelled with (1) are preliminary.

Official data on power consumption and electric range were determined in accordance with the mandatory measurement procedure and comply with Regulation (EU) 715/2007 valid at the time of type approval. In case of a range, figures in the WLTP take into account any optional equipment. For newly type-tested vehicles since 01.01.2021, the official data no longer exist according to NEDC, but only according to WLTP. For more information on the WLTP and NEDC measurement procedures, see www.bmw.de/wltp