MODELS.
Attractive model versions of the BMW 2 Series Gran Coupé.
DESIGN.
Top-features of the BMW 2 Series Gran Coupé in the exterior and interior.
The first-ever BMW 2 Series Gran Coupé lends an extremely light appearance to authority on wheels of up to 19″ in size. The distinctive BMW kidney grille, LED headlights and rear lights, frameless doors, powerful shoulders and the sporty rear – sheer authority that is also reflected in the interior. With illuminated interior trim finishers and optional sport seats, the driver-oriented cockpit creates an ambience that is exclusive and dynamic in equal measures. At the same time, the two 10.25″ displays with Live Cockpit Professional and the BMW Head-Up Display keep you fully informed.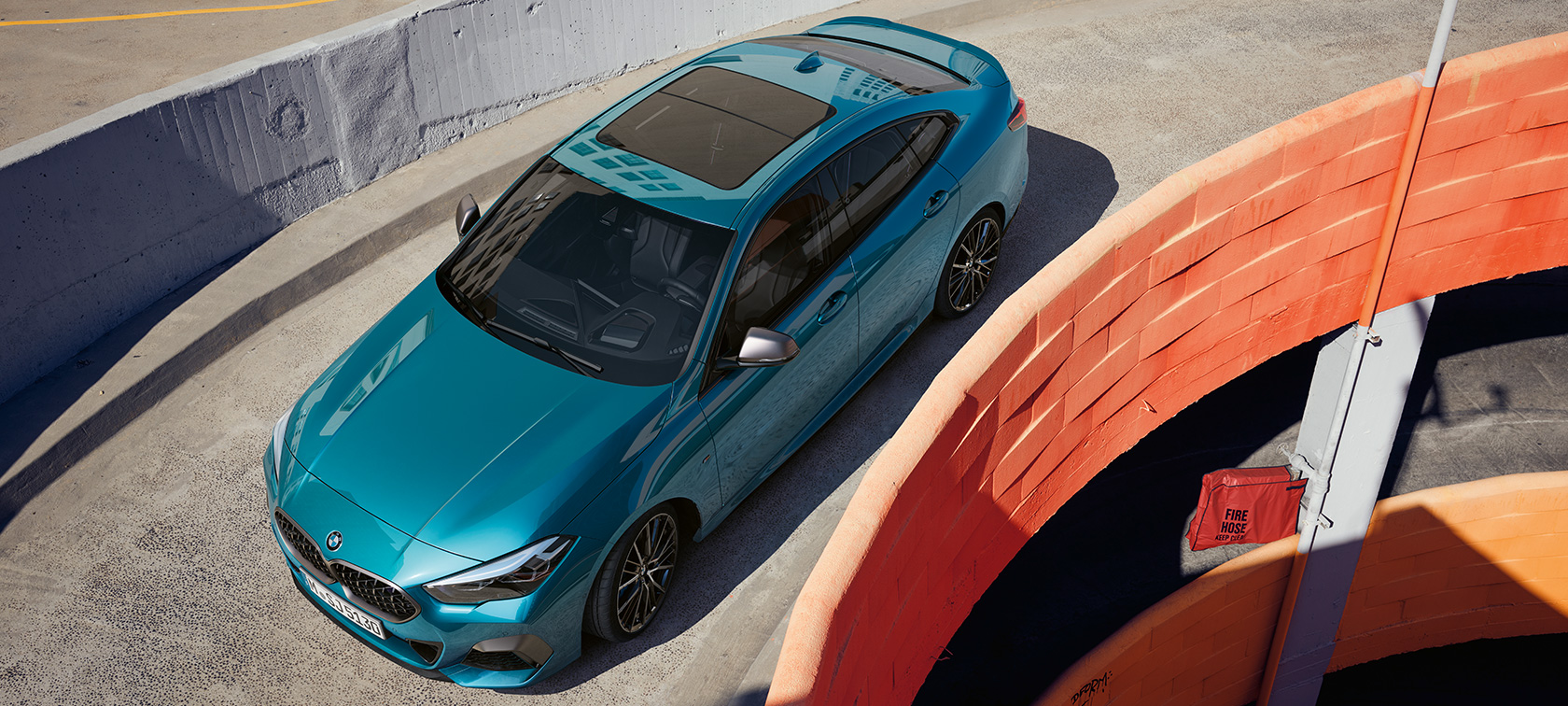 BMW kidney grille in mesh design.
The BMW kidney grille in mesh design is completely finished in Cerium Grey and has an elaborately designed grid inside. This grid structure, inspired by racing, lends depth and value to the front and sets a high-quality and dynamic accent in the details.
Frameless doors.
The elegant frameless doors complement the elegant lines of the vehicle and underline the sporty character of the vehicle.
Tailpipe trims, visible.
The tailpipe trims make a visual statement with a 90-mm diameter and make the vehicle even more sporty.
Adaptive LED headlights.
The Adaptive LED headlights include low-beam and high-beam headlights and turn indicators with full LED technology. The equipment also features cornering lights, daytime running lights and Adaptive headlights with city, country and motorway mode for excellent illumination of the road ahead and better visibility in the dark.
LED rear lights.
The LED rear lights highlight the dynamic rear of the vehicle and provide optimum illumination of the roadway as well as better visibility and recognisability in the dark.
BMW Live Cockpit Professional.
The BMW Live Cockpit Professional with navigation function includes two high-quality displays consisting of a high-resolution 10.25" Control Display that can be operated by touch and a fully digital 10.25" instrument display. The BMW Operating System 7 can also be operated via the iDrive Touch Controller.
Interior trim finishers 'Illuminated Brooklyn'.
The interior trim finishers 'Illuminated Brooklyn' with 'Triangle' accent on the dashboard and door trim lend the interior a progressive ambience with a high sense of value. The shimmering pattern of the discreetly backlit finishers creates both an attractive as well as a pleasant atmosphere in the vehicle.
BMW Head-Up Display.
The large, full-colour BMW Head-Up Display projects information relevant to the journey directly into the driver's field of vision, thereby allowing them to fully concentrate on driving. Information such as the current speed, navigation directions, Speed Limit Info including no-overtaking indicator, along with telephone and entertainment lists are displayed, depending on the equipment.
Panorama glass roof.
When open, the Panorama glass roof provides a great deal of fresh air. Closed, it creates a bright, light-flooded atmosphere in the interior. It opens and closes completely automatically at the push of a button or with the vehicle key and is equipped with slide and lift functions, a roller sunblind and wind deflector.
Sport seats for driver and front passenger.
The Sport seats for driver and front passenger are characterised by seat and backrest bolsters that are larger than those on the standard seats and, together with adjustable thigh support, for excellent ergonomics and better lateral support during fast cornering. In addition to the seat depth (mechanical), the backrest width (electric) can also be adjusted on the driver's seat.
DRIVING DYNAMICS.
Engine, drive train and chassis technologies of the BMW 2 Series Gran Coupé.
Substantially enhances the compact class: with dynamic equipment such as the Adaptive suspension, the double-clutch transmission and xDrive all-wheel drive, the BMW 2 Series Gran Coupé assumes a leading role in its segment in matters of agility. In combination with the powerful and highly efficient BMW TwinPower Turbo petrol and diesel engines, its sets itself apart from the crowd with ease and delivers outstanding self-assuredness on every route.
BMW TwinPower Turbo 2.0-litre 4-cylinder petrol engine.
The new generation BMW TwinPower Turbo 2.0-litre 4-cylinder petrol engine guarantees maximum driving pleasure. It is notable for its agile power delivery as well as for its outstanding responsiveness even at low engine speeds, while also being fuel efficient and low in emissions.
BMW TwinPower Turbo 2.0-litre 4-cylinder diesel engine.
The new-generation BMW TwinPower Turbo 2.0-litre 4-cylinder diesel engines demonstrate agile power delivery coupled with excellent responsiveness, even at low engine speeds. Turbocharger technology with variable turbine geometry and CommonRail direct injection ensures that these engines are exceptionally fuel efficient and low in emissions.
7-speed Steptronic transmission.
The 7-speed Steptronic transmission with double clutch technology combines high efficiency with particularly smooth gearshifts and outstanding driving comfort, thanks to tightly spaced gear ratios and fast engine speed transitions. It therefore unites superb comfort with impressive dynamics and increased fuel efficiency.
8-speed Steptronic Sport transmission.
The 8-speed Steptronic Sport transmission offers incredibly sporty gear changes. Whether automatic or manual using gearshift paddles or gear lever – for comfortable coasting or incredibly dynamic driving. In SPORT mode and with the gear lever in the left-hand S/M position, the gear shifts are configured for the maximum performance.
M Sports steering.
The M Sports steering with Servotronic creates a direct and agile steering response and reduces steering effort. Your vehicle can be directed more precisely, offering highly athletic handling characteristics, particularly on winding roads.
BMW xDrive.
The intelligent BMW xDrive all-wheel drive system smoothly and variably distributes drive power to the front and rear wheels for maximum traction, driving dynamics and safety in every driving situation. For even better agility, the electronically controlled power distribution for instance counterbalances oversteer or understeer on bends.
M Sport suspension.
M Sport suspension lowers the vehicle by approximately ten millimetres. It also features shorter suspension springs and tighter damper settings, as well as harder stabilisers. Combined together, they result in an even more direct suspension design, which enables a distinctly sporty driving style.
Adaptive suspension.
The adaptive suspension makes it possible to adjust the damper characteristics to suit the driving situation and combines ride comfort and driving dynamics with the best possible safety. Via the Driving Experience Control, you can choose the standard COMFORT mode or the SPORT mode.
ASSISTANCE SYSTEMS AND COMFORT FUNCTIONS.
Innovative driver assistance systems and technology features in the BMW 2 Series Gran Coupé.
The BMW 2 Series Gran Coupé puts on a technically progressive display down to the finest detail. Innovative driver assistance systems such as the Reversing Assistant support you during the journey while the BMW Intelligent Personal Assistant takes communication between driver and vehicle to the next level and the Digital Key provides greater convenience by allowing the doors to be locked and unlocked via smartphone.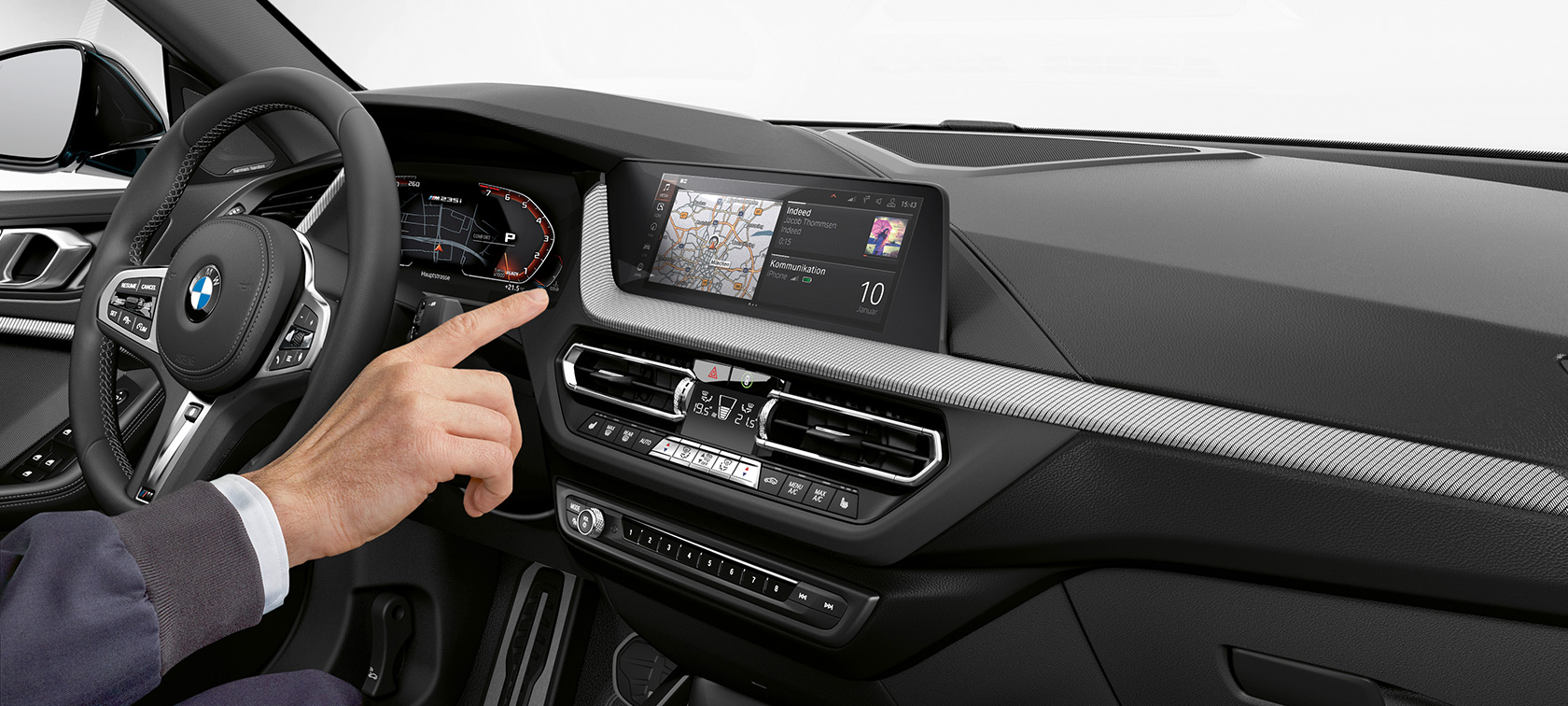 BMW ConnectedDrive
BMW Personal CoPilot
BMW Intelligent Personal Assistant.
"Hey BMW. Who are you?" Wouldn't it be incredible if your BMW was also your personal assistant? Communicate with your vehicle using the BMW Intelligent Personal Assistant. It knows you, gets better every day and helps out whatever the situation. You can assign your own personal activation word. It can explain everything about your car and helps you to get to know your BMW even better.
Remote Software Upgrade.
Do you want your BMW to be up to date with the latest software? With Remote Software Upgrade, your BMW will always be like new. Upgrades are installed over-the-air, just as they are for your smartphone. In this way, other functions in your vehicle can also be activated.
Connected Music.
Listen to your favourite music wherever you are. Classical on the motorway, jazz during rush hour and pop when you're cruising. With Connected Music, you can directly stream as many as 30 million songs without any limits via BMW's music partner Spotify, using the SIM card installed in your vehicle.
Parking Assistant.
Parking Assistant makes parking the vehicle easier. The Rear View camera provides a clearer view behind the vehicle. Active Park Distance Control offers increased protection against damage caused by parking. Parking Assistant parks the vehicle automatically, parallel or perpendicular to the street, and leaves parallel parking spaces. The Reversing Assistant supports you when reversing, e.g. in narrow lanes.
Active cruise control.
Active cruise control with Stop&Go function maintains within a speed range of 30 to 160 km/h a pre-defined distance from the vehicle ahead, including stopping and restarting in stop-and-go traffic. Speed Limit Assist allows the takeover of speed limits in the cruise control. The front collision warning with braking intervention reacts to stationary vehicles, pedestrians and cyclists.
Manual Speed Limit Assist.
The manual Speed Limit Assist enables the takeover of a detected speed limit as setting speed for the limiter function and the active cruise control or cruise Control with braking function. It takes the pressure off on motorways and highways, for example, by eliminating the need to constantly check and compare your speed with the specified limits.
Driving Assistant.
The safety package Driving Assistant includes the camera-based systems front collision warning with braking function, Speed Limit Assist incl. Speed Limit Info with No-overtaking indicator with preview and Lane Departure Warning. Additionally, the radar-based equipment includes Crossing traffic warning rear, Lane Change Warning and Rear collision warning.
FUEL CONSUMPTION AND CO2 EMISSIONS.
BMW M235i xDrive Gran Coupé:
Fuel consumption in l/100 km (combined): 7.1–6.7
CO2 emissions in g/km (combined): 162–153

BMW 218i Gran Coupé:
Fuel consumption in l/100 km (combined): 5.4-5.0
CO2 emissions in g/km (combined): 123-114

BMW 220d Gran Coupé:
Fuel consumption in l/100 km (combined): 4.5–4.2
CO2 emissions in g/km (combined): 119–110

The information on fuel consumption, CO2 emissions and energy consumption has been determined in accordance with the prescribed measurement procedure VO (EU) 715/2007 in the version applicable at the time of type approval. The figures refer to a vehicle with basic configuration in Germany and the range shown considers optional equipment and the different size of wheels and tires available on the selected model.

Further information about the official fuel consumption and the official specific CO2 emissions for new passenger automobiles can be found in the 'New Passenger Vehicle Fuel Consumption and CO2 Emission Guidelines', which are available free of charge at all sales outlets and from DAT Deutsche Automobil Treuhand GmbH, Hellmuth-Hirth-Str. 1, 73760 Ostfildern, Germany and on https://www.dat.de/co2

The values are already based on the new WLTP regulation and are translated back into NEDC-equivalent values in order to ensure the comparison between the vehicles. For vehicle related taxes or other duties based (at least inter alia) on CO2 emissions the CO2 values may differ to the values stated here.

Read more