BMW SERVICE CENTRE: VEHICLE CHECKS AND MAINTENANCE.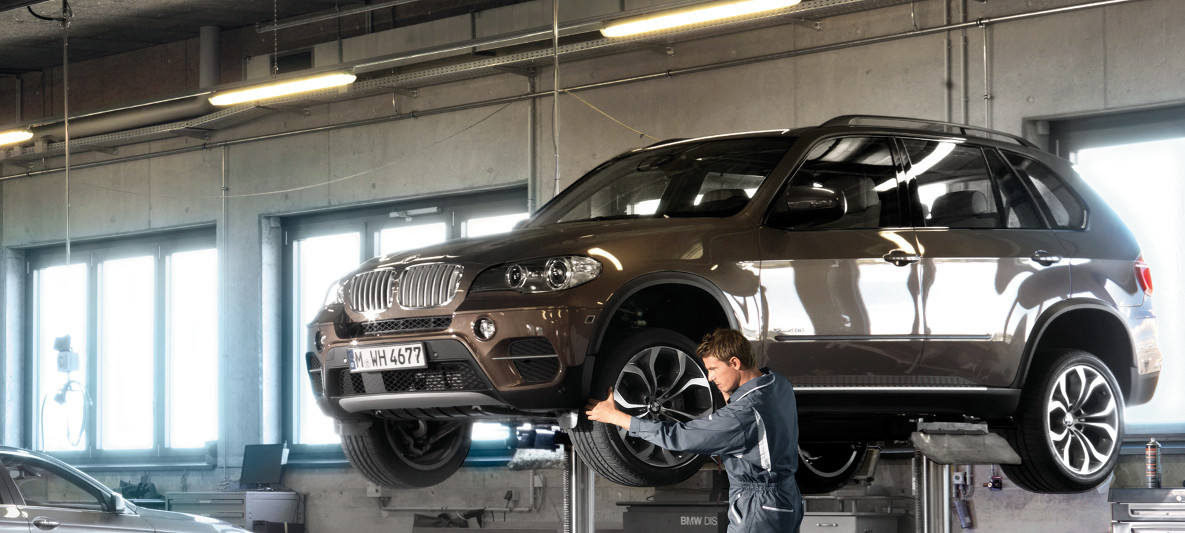 MAINTAINING YOUR BMW.
Professional, reliable and good value.
Regular BMW maintenance ensures optimum safety and driving comfort - the keys to enjoying your BMW. Aided by our advanced onboard-maintenance system Condition Based Service (CBS*), this car service enables your BMW to inform you when maintenance work or wear-and-tear repair is due and program your next car inspection.

Thanks to BMW diagnostic equipment and sensors on board your BMW, it continuously monitors the status of individual wear-and-tear parts and vehicle fluids. The date of your next maintenance check is automatically displayed on the dashboard's InfoDisplay. Relevant service data is automatically transmitted to your BMW Dealership with BMW TeleServices**.

*Older model series are equipped with a Service Interval Indicator (SII). **Comes free of charge with the required options.

Read more
CONDITION BASED SERVICE.
Condition based servicing has been offered since 2002. This service is based on the actual status of critical components within each individual vehicle, in other words as its name implies, a condition-based service. Vehicle sensor technology systems within the vehicle, monitor the wear on various components. These include engine oil, brake pads, brake fluid, micro-filters, spark plugs, and coolant and alert the driver as to when it is necessary to visit the dealership for your car repair and maintenance.

Not only do these systems result in increased vehicle safety, through constant monitoring for component wear and tear and the possibility to have preventive maintenance, but they also lead to lower cost of ownership through the effective extension of service intervals.

For further information regarding CBS or to schedule an appointment please contact your nearest BMW Dealer.
Read more
MECHANICAL AND ELECTRICAL REPAIRS.
Benefit from expertise and quality.
When it comes to repairs of mechanical parts like brake pads and discs or electronics like your navigation system, a specialised BMW technician is needed. After all, no one knows the innovative technology in your BMW better than the experienced and highly qualified service specialists at your preferred BMW service centre.

Read more
MECHANICAL REPAIRS.
For BMW wear-and-tear repairs, only Original BMW Parts specifically designed for your model are used. Only qualified BMW mechanical repairs translate into Sheer Driving Pleasure and are guaranteed to restore the safety levels you expect from your BMW – making a perfect ride even better at our BMW approved repair centres.

Read more
ELECTRICAL REPAIRS.
Specialised knowledge is paramount for BMW electrical repairs. Which is why you should only trust the specialists at BMW Service centres to work on BMW electronics – so all of the high-tech, finely tuned electronic components interact perfectly and a smooth flow of data and information is guaranteed.

BMW Electrical repairs include the highly sensitive repair of your BMW Navigation system, BMW electrical windows or other Electronic Control Unit repairs. Your BMW Dealer has the expertise and cutting-edge equipment required to analyse and resolve any electronic faults and exclusively uses Original BMW Parts. BMW electrical repairs ensure long-lasting, outstanding performance.
Read more