ELECTRIC CARS & PLUG-IN HYBRIDS.
Experience the pioneering electromobility technologies from BMW.
We are shaping the interpretation of electromobility with BMW i and our plug-in hybrid models along with the concept of sustainability, performance and design. For a number of years, we have already been producing our electric cars and have firmly rooted environmental awareness and sustainability in our brand. We have created a production chain that has helped us to become one of the largest suppliers of electrified vehicles in Europe. By the end of 2019, more than 500,000 electrified BMW vehicles will be driving on roads all over the world.
We offer a broad range of electrified BMW models, ideally suited to meet your very individual requirements. On this page you will not only find all the information on our purely electrically powered cars but also on our plug-in hybrids, which are propelled by both an electric motor and a combustion engine. You will also obtain an overview of the numerous offers from BMW Charging, which are available for both drive systems and gain an outlook of the innovative milestones of electromobility that already await you in the near future.

Read more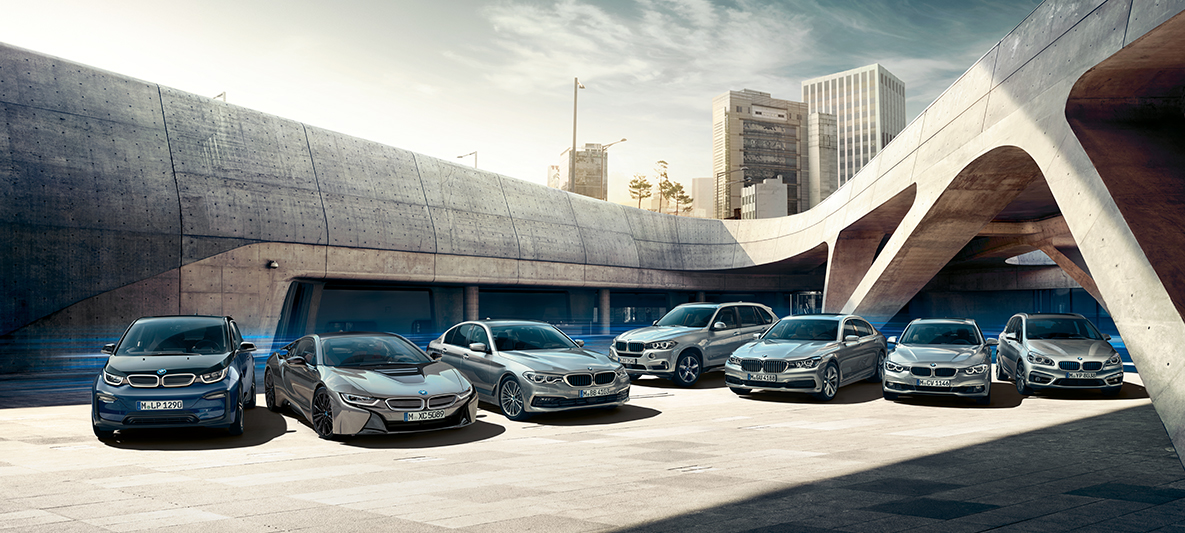 ELECTRIC CARS AND HYBRID VEHICLES COMPARED.
Technological progress in electromobility makes the range on offer and the individual benefits for users increasingly diverse. At the same time, there is a major distinction between purely electric cars and hybrid vehicles. Here you can compare the most important technologies in electromobility and find the best possible drive option for your requirements.
Electric car.

An electric car, also known as a BEV (battery electric vehicle), runs exclusively on electricity stored in a battery. This determines the electric range of the vehicle. The electric car therefore has no combustion engine, nor does it need any fossil fuel to propel the vehicle. As a result, an electric car is locally free of emissions in the actual driving mode.


Plug-in hybrid vehicle.

A hybrid vehicle or PHEV (plug-in hybrid electric vehicle) has two motors: a combustion engine and an electric motor, which results in a significantly increased overall range. It obtains its energy not only from normal sockets or a charging station but also through active driving situations using brake energy regenerations, a process called recuperation. This involves the kinetic energy of the vehicle being converted back into electrical energy during the braking process and fed into the battery.

Mild hybrid vehicle.

A mild hybrid electric vehicle, or MHEV for short, denotes another version of the hybrid drive. In a mild hybrid, the electric motor does not function as an independent drive. It merely supports the combustion engine and engages in certain driving situations. This brings about a saving in fuel as well as an increase in range. In addition, the electric drive can reinforce the combustion engine by providing a boost. Charging the battery, however, takes place exclusively during the journey when braking through recuperation.