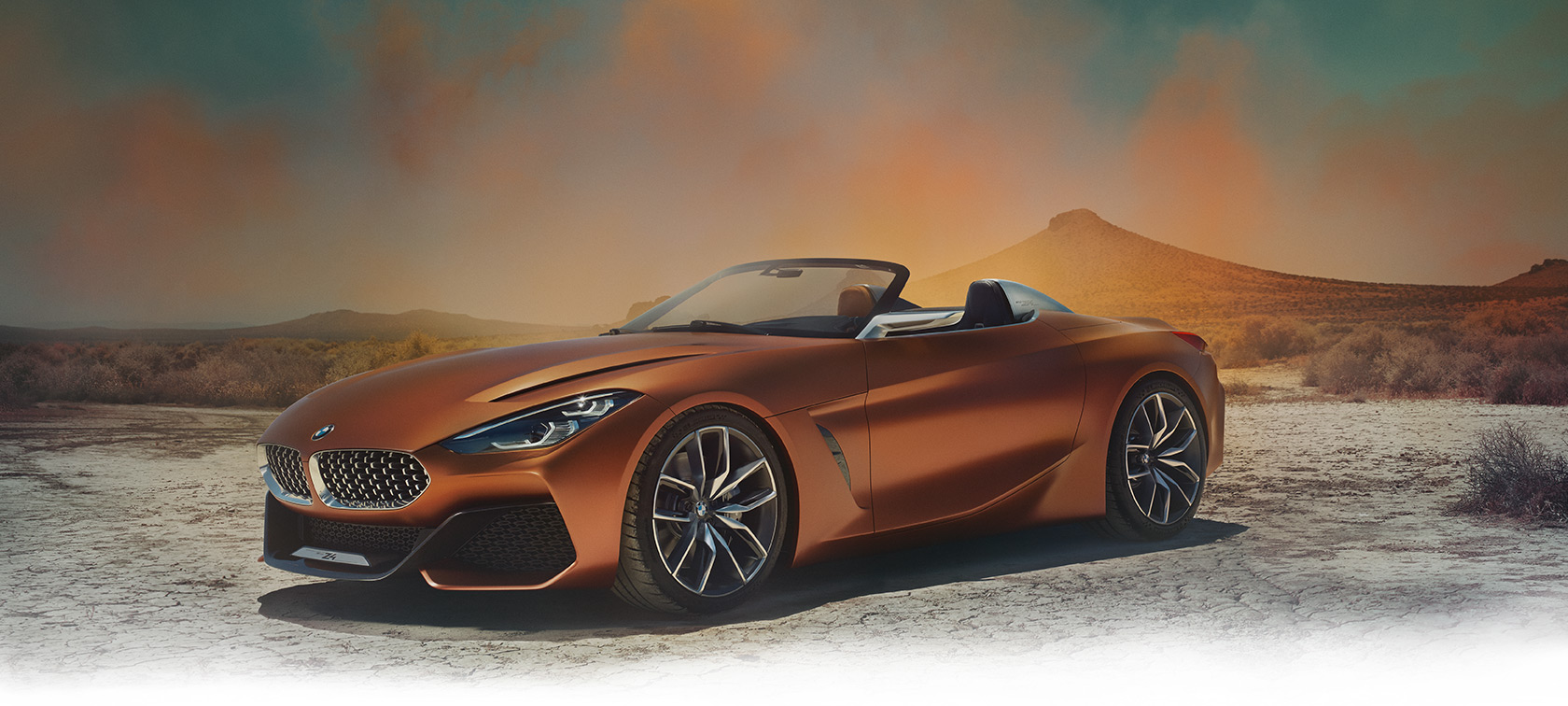 BORN TO BE WILDER.
The all-new BMW Concept Z4.
SHOW YOUR COLOUR.
There is no place for conventions in this roadster. The all-new BMW Concept Z4 abandons the status quo and raises driving pleasure so that it becomes an attitude towards life. On the exterior, the Energetic Orange paint finish showcases the muscular curves to spectacular effect – and places the spotlight on the roadster in every location. At first glance, the flat, retracted front and the low position on the road testify to forward thrust and sporting ambition. The vehicle becomes one with the asphalt, ready to explore new routes. Always with the one aim: sheer driving pleasure.
"The BMW Concept Z4: that is absolute freedom on four wheels."

Adrian van Hooydonk, Head of BMW Group Design.
BARE NEVER LOOKED THIS GOOD.
The Concept BMW Z4 is a tribute to the rich roadster tradition of BMW with a crisp and modern twist. The low-set, broad kidney grille and higher headlights give the Concept BMW Z4 an eye-catching face while elements like the large carbon-fibre insert in the central intake as well as the diffuser are undeniably athletic. From the sharply sculpted lines to the dramatic surface contouring, confidence is in its DNA.

ZERO DISTRACTION. PURE ENJOYMENT.
The interior of the Concept BMW Z4 works in perfect unison with the exterior, creating a sense of freedom on the road – stripped down to the essentials. The interior has a resoundingly exclusive, minimalist ambience largely thanks to polished chrome accents and swish, hexagonal laser-cut motifs. The sporty instrument panel also boasts an inherent lightness with flawless ergonomics echoed throughout the cabin.

"The BMW Concept Z4 shows the new BMW design language in all details and from every perspective."

Adrian van Hooydonk, Head of BMW Group Design.