RANGE, CHARGING & EFFICIENCY OF THE BMW i3.
Drive further, faster. With pleasure and zero emissions.
The BMW i3 has everything you need to combat the challenges of modern mobility – and to outmatch them in silence. It charges 80 percent of its high-voltage battery at a quick-charging station in about 45 minutes. Its intelligent energy management makes it flexible and highly efficient, both in city traffic and on longer trips.*
* The BMW i3 must not be charged with cables more than 30 metres long.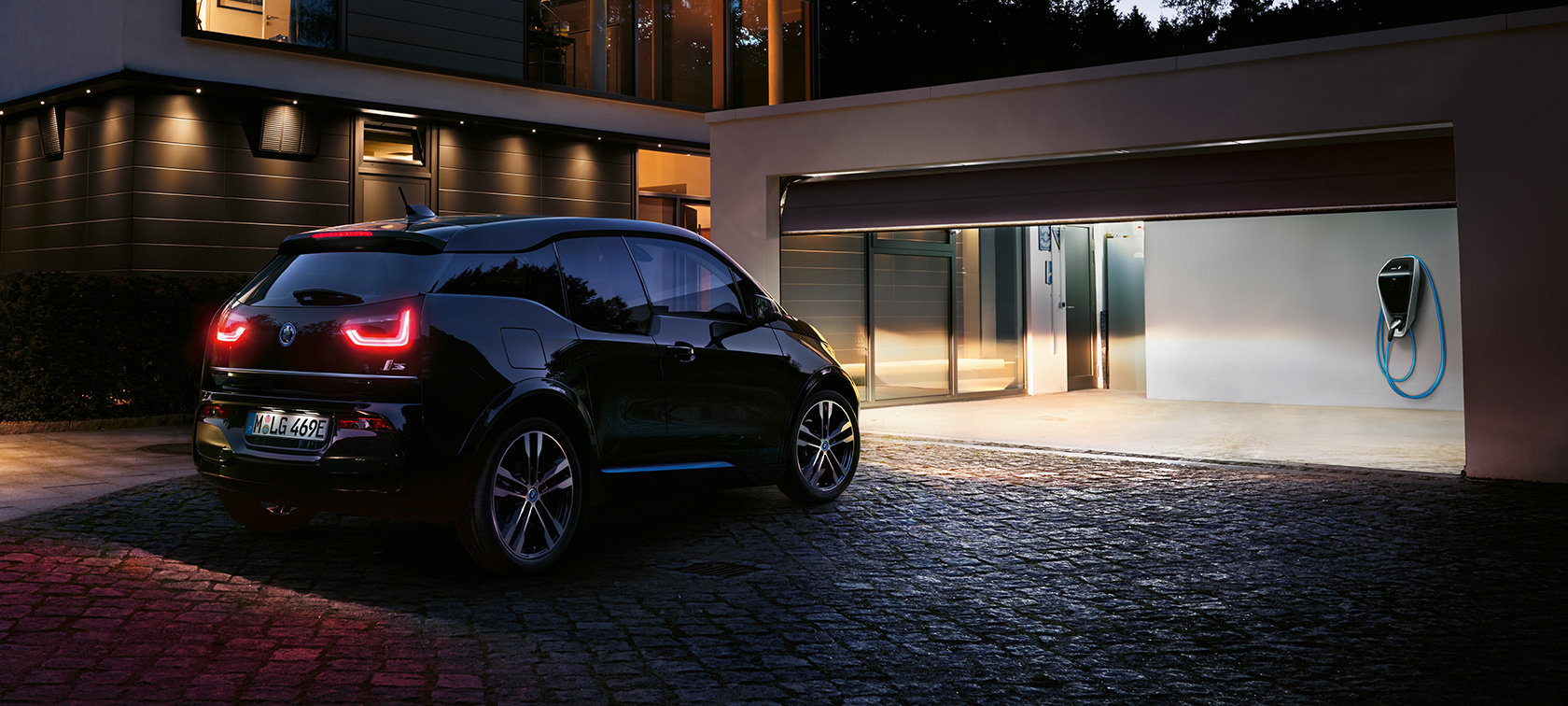 Range.
Getting ahead has never been so easy: the BMW i3 can cover up to 260 kilometres in a day with its extended range. The new high-performance battery now supplies the electric engine with even more energy – and you get even more electric driving pleasure.
Home Charging.
With the BMW Wallbox, and the BMW Wallbox Plus you can charge your BMW i3 at home safely, quickly and comfortably. In about three hours the battery will be charged up to 80% of its capacity. This is possible due to the three-phase charging power of the new BMW Wallbox of up to 11 kW* for the BMW i3. With the BMW installation service, the installation of your BMW Wallbox will be carried out by qualified experts. For even more sustainability, you have the option to use green energy and solar power you have generated yourself. (* The Wallbox has a charging capacity of up to 22 kW.)
Digital Charging Service.
How can I supply my vehicle with electricity during the day? And will my BMW still be charged in time before I have to leave? With the Digital Charging Service questions like this will no longer be necessary. This is because the intelligent charging assistant takes care of topping up the battery at the charging station in your home, during the day or night, or from the socket, automatically, efficiently and, above all, in an environmentally friendly way.
Public charging.
There are many reasons for you to be out and about with your BMW i3 – and just as many opportunities to charge it while you are. First, the practicalities: With the BMW i3, you can use public charging stations with either alternating current (AC) or with direct current (DC). This will make you more flexible and will allow you to charge the vehicle as quickly as possible. This is because at a public DC charging station, the energy is transferred directly into the high-voltage storage in the vehicle battery at a constant current flow rate. This allows the BMW i3 to be charged up to 80% in ca. 40 minutes. Alternatively, you can also charge your BMW i3 at an AC charging station up to 80% in about three hours. Thus, public AC charging stations are particularly well-suited during long periods of the vehicle being parked, for example during a shopping tour.
BMW Wallbox.
With the new BMW Wallbox, and the BMW Wallbox Plus you can charge quickly, reliably and conveniently.
SUSTAINABILITY OF THE BMW i3.
No compromises. Everything for driving pleasure with zero emissions.
The BMW i3 embodies a new attitude towards mobility. It is based on a unified approach revolving around the vehicle at all stages, including development, production, and recycling. Many of the materials are made of renewable resources – and the BMW i3 is manufactured with 100% energy from renewable sources. Driving pleasure can't feel any better.
Read more
DRIVER ASSISTANCE SYSTEMS & DIGITAL SERVICES OF THE BMW i3.
Supports their mobility. On new paths and all channels.
Don't miss anything while you're on the road. Always stay up-to-date. That's exactly what the BMW i3 offers with its numerous digital services and driver assistance systems. It's no wonder that it's still the best-connected vehicle in its market segment. And because of that, it's associated with relaxed mobility, comfort, and safety like no other vehicle.
Send to Car.
Let's imagine you have found a destination, want to set off immediately without losing any time at all. It's all very easy with Send to Car. Look for interesting locations such as your favourite restaurant or the nearest day trip in the "Destinations" section of the BMW Connected App. There you will also find a display of the nearest charging stations on your route. Then click on "Go" or send the data directly to the navigation system of your BMW. When you have clicked on "Go", the navigation launches automatically as soon as it connects with your smartphone via Bluetooth when you enter the vehicle. When you have sent your desired destination to the navigation system, you will find the address saved under the menu item "Messages". From there you can activate the navigation immediately or at a later point in time.
Remote Services for eDrive.
Do you have enough charge for a journey into town and are there any charging points there? With eDrive Remote Services, conveniently find the answers to such questions using the BMW Connected app on your smartphone. You can also control the temperature, lock your car or activate the headlight flash from a distance, to find it in a parking lot for example.
Driving Assistant Plus.
The Driving Assistant Plus equipment produces a clear improvement in safety and comfort. It includes the Approach control warning and Person warning with light city braking function, Speed Limit Info, Camera-based cruise control with Stop&Go function as well as the Traffic jam assistant.
Parking assistant.
The Parking assistant makes it easier to park in spaces parallel to the street. Suitable parking spaces are shown and selected via the Control Display. After turning on the indicator, and when the PDC button is depressed, the system takes over shifting gears, steering, accelerating and braking, thus parking completely automatically.
FUEL CONSUMPTION AND CO2 EMISSIONS.
BMW i3 (120 Ah):
Power consumption in kWh/100 km: 13.1
CO2 emissions in g/km (combined): 0
Fuel consumption in l/100 km (combined): 0
Electric range in km (combined): 359
Electric range every day use in km: up to 260

BMW i3s (120 Ah):
Power consumption in kWh/100 km: 14.6–14.0
CO2 emissions in g/km (combined): 0
Fuel consumption in l/100 km (combined): 0
Electric range in km (combined): 330–345
Electric range every day use in km: up to 260

The information on fuel consumption, CO2 emissions and energy consumption has been determined in accordance with the prescribed measurement procedure VO (EU) 715/2007 in the version applicable at the time of type approval. The figures refer to a vehicle with basic configuration in Germany and the range shown considers optional equipment and the different size of wheels and tires available on the selected model.

Further information about the official fuel consumption and the official specific CO2 emissions for new passenger automobiles can be found in the 'New Passenger Vehicle Fuel Consumption and CO2 Emission Guidelines', which are available free of charge at all sales outlets and from DAT Deutsche Automobil Treuhand GmbH, Hellmuth-Hirth-Str. 1, 73760 Ostfildern, Germany and on https://www.dat.de/co2

The values are already based on the new WLTP regulation and are translated back into NEDC-equivalent values in order to ensure the comparison between the vehicles. For vehicle related taxes or other duties based (at least inter alia) on CO2-emissions the CO2 values may differ to the values stated here.

Read more